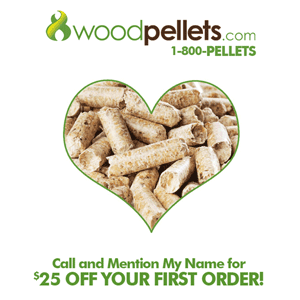 Tell your friend about Woodpellets.com, and he or she will get $25 off their first order! Plus, when that first order is delivered, your Woodpellets.com account will automatically be credited $25! So, if you're happy with our service, our products and our convenient delivery…share the pellet love!
Here's an example: Woody is a current Woodpellets.com customer, and his neighbor Wilma is not a customer yet.
1. Woody tells Wilma about the convenient delivery options, the variety of high quality wood pellets available, and the expert customer support at Woodpellets.com. He tells her she'll love it, and she will get $25 off her first delivery if she mentions his name at the time of ordering.
2. Wilma calls 1-800-735-5387 to speak to one of the Woodpellets.com experts. After a conversation about what she's looking for, and what kind of delivery she needs, Wilma exclaims, "Woody referred me!"
3. The Woodpellets.com expert looks up Woody's account, and Wilma is given a $25 discount on her order.
4. When her order is delivered, Woody's Woodpellets.com account is automatically credited $25!
It's as simple as that. And another thing…there is no limit on the amount of referral credits you can receive.

Read more