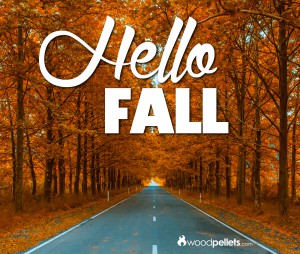 Today is the first official day of Fall! This means it's time for apple picking, pumpkin carving and soon…..firing up your wood and/or pellet stoves!
We can assure you that we are working diligently to get orders out to our customers as quickly as we can. However, pellets cannot be delivered immediately after ordering. (Lead times vary by region.) If you haven't ordered your wood pellets or wood bricks yet, we strongly encourage you do so as soon as possible in order to secure your fuel and get into our delivery queue. It's not our supply we are warning you about, because we have considerably more pellets than our customers have ordered from us, at any given time. We are just providing a friendly reminder to place your order sooner rather than later to get higher on our delivery list.
Whether you choose to stick with us this year, try us out for the first time, or order elsewhere…order as soon as you're able. Our customer service representatives are standing by at 1-800-PELLETS, and our website (www.woodpellets.com) is always available for orders, 24/7.
Thank you, and Happy Fall!