For years we've been reminding our customers that it's safe to store your wood pellets outside, as long as you secure a sturdy tarp over them. We've heard concerns about sun damage, tarp shape, edges flying up, difficulty with accessing pellets, among others.
Read >> How to Store Your Wood Pellets Outside
We have heard your concerns and we have designed a solution available exclusively from Woodpellets.com! These sturdy tarps are made to fit perfectly over your wood pellets as they're delivered on pallets. Plus, one side has a very convenient strip of velcro to make opening up and closing a breeze.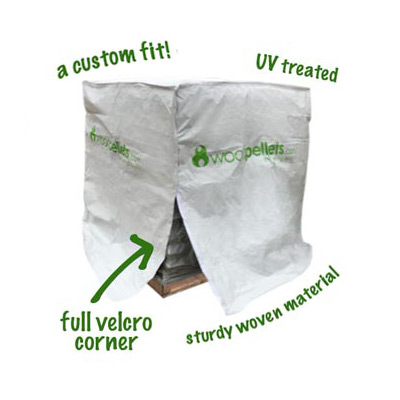 Available in a 50" height for 1-ton skids and a 72" height for a 1.5 ton skid, each protective tarp is 49 inches in length and width, with a white outside and black underside. The 8×8 woven material is rated for 1 year of UV protection to help with protection from the elements.
These brand new covers were created with our customers' needs in mind – so we feel confident they'll help you better protect your precious Woodpellets.com fuel.
Order your wood pellet tarp online or call 1-800-735-5387 to speak to a representative!