We're always encouraging our customers to try and re-use materials leftover from deliveries. However if you are planning to start a DIY project using wood pallets, it's important to fully inspect them first.
Begin with checking for any suspicious spills or stains on the pallet. If you find any that aren't sap, we don't suggest using that pallet in case of past chemical contamination.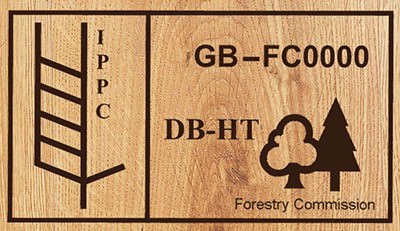 Next, check for the pallet's stamp, which gives you information about the wood. Even if it could be completely safe, you shouldn't use a pallet without one.
HT = Heat Treated. Pallets manufactured in North America are heat treated to control pests. This is a good symbol to see on a pallet.
DB = Debarked. This simply means the wood sourced for pallet making has had any bark on it removed. Many pallets have this stamp, but it doesn't matter either way.
KD = Kiln Dried. The use of ovens or kilns on the wood is to control factors like warping and fungal growth. You might also see a DH code to note the use of dielectric heating.
MB = Methyl Bromide. DO NOT make use of pallets marked MB! Methyl bromide fumigation is a chemical pesticide treatment that can be very hazardous.
According to 1001 Pallets, "In 1987, the Montreal Protocol aimed to regulate the use of methyl bromide, along with multiple other chemicals found to impact the ozone. This type of treatment is now banned in Canada and many countries because it poses health risks to workers handling the pallets. However, you can still find it in some places. If you find an MB pallet (likely from Asia or Oceania), please do not use it for your craft projects or as firewood, find a waste-removal company that can dispose of it properly."
Learn more about pallet safety here, and check out this visual guide on reading pallet stamps. Stay safe and have fun with your projects!