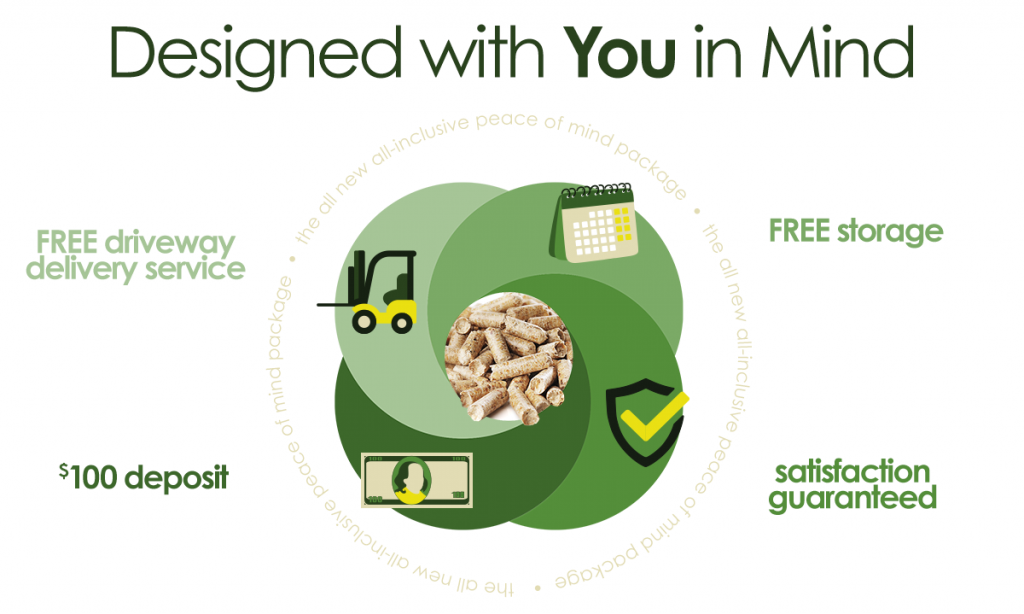 Woodpellets.com has always offered convenient home delivery and premium fuel backed by a Quality Guarantee which has always delighted our customers due to the peace of mind it provides. In order to exceed our own top-tier standard of customer satisfaction and expand on that customer peace of mind…we're now offering even more with every order.
We're so proud to announce a brand new pricing and service model with some very exciting features! In addition to the premium wood pellet fuel backed by a Quality Guarantee, professional home delivery options and expert customer service that has always been part of the Woodpellets.com experience, we've added three features included within the all-inclusive pricing.
FREE Delivery: You will never need to worry about what the delivery cost will be. Every order now comes with FREE Driveway Delivery! If you need our skilled delivery drivers to bring a pallet jack to place your fuel exactly where you need it inside your garage, it's just a small fee of $65.
FREE Storage: This has been such a popular option among our customers, it's now included with every order. Place your order when it's convenient for you, but you don't have to take delivery right away. You choose your own delivery month, so we'll bring it when you're ready!
$100 Deposit: No more paying up front in full for your wood pellets. Place your order when you want and put only $100 down as a deposit. We'll capture the rest whenever your delivery has been scheduled (in the month of your choice, of course). Now you can secure your fuel allotment, lock in your price and take delivery later without the stress of paying up front.
Based on over a decade of experience as the nation's leading wood pellet retailer, this new all-inclusive program was designed with great care and consideration for what our customers need, want and deserve.
As always, we're here if you have any questions. Call 1-800-PELLETS to speak to an expert!

*For any order placed under the $100 deposit plan, there will be a $20.00 per ton cancellation fee. Minimum of $20.00 and maximum of $100.00 per order.  The cancellation fee will be deducted from any refund on the order. Free delivery is for driveway only – pallet jack delivery into the garage is available for an additional fee. Delivery month selection is a request, not a guarantee, and scheduling is at the discretion of the Delivery Manager.