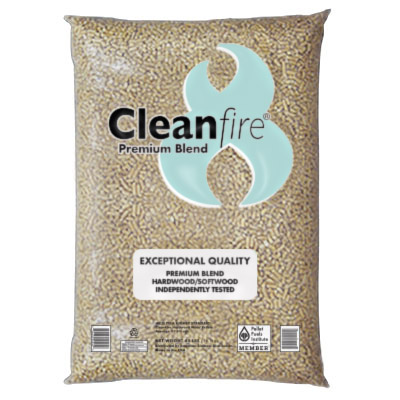 NEW Cleanfire Premium Blend Hardwood/Softwood Mix – Available in 40lb and 20lb Bags
We've heard your requests for a reliable, premium blend pellet and for lighter bags! If you're one of the many searching for a clean burning wood pellet fuel that's perfect for your stove but easy on your wallet, the all new Cleanfire Premium Blend is just what you need.
This all new, all natural pellet blend is a just-right mix of 40% hardwood and 60% softwood – which adds up to an optimal burn experience.
With an impressive heat output of over 8500 BTUs and a low ash content of less than .6%, you'll be able to keep your home nice and warm without all the extra cleaning. Choose the standard 40 pound bag or opt for the convenience of lighter 20 pound bags!
Bear Mountain BBQ Grilling Pellets
Woodpellets.com is proud to offer a premium BBQ pellet! Bear Mountain BBQ wood pellets are expertly blended by dedicated craftsmen to create the perfect balance of savory, smoky flavor for a meal you won't forget.
Bear Mountain 100% natural grilling pellets are made in the USA with only the highest quality hardwoods – with no fillers, binders or oils. This dedication to quality results in flavor you can count on for the perfect BBQ, time and time again.
If you don't have a wood pellet grill, you can still get that smoky BBQ flavor using a few different techniques. Try all five flavors to take your next meal to the next level!
GOURMET BLEND: The signature flavor. A perfect balance of smokiness blended with subtle, sweet notes to enhance meat, fish and veggies.
HICKORY: Robust smoke flavor for beloved BBQ meats like ribs, butts and brisket. A classic choice sure to please!
MESQUITE: Strong, earthy, uniquely bold smokiness that enhances every cut of beef. Also pairs nicely with a milder flavor, like Apple!
APPLE: Never heavy and always delights. Perfect for ham, fish and poultry.
CHERRY: Adds a sweet, fruity pop to all your favorite meats and veggies.