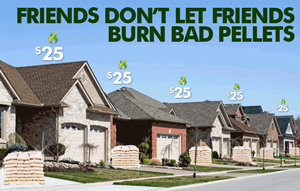 Are you happy with your Woodpellets.com experience? Tell a friend! You can get $25 in credit added to your account every time you successfully refer a new customer!
Once your friend's first order is delivered, your Woodpellets.com account will automatically be credited $25. So, if you're happy with our service, our products and our convenient delivery…share the pellet love!
Here are just a few examples of some happy Woodpellets.com customers:
"I would like to say thank you. First time customer my delivery and purchase experience was great. The driver did an outstanding job very professional and polite. The customer service were also as accommodating. I'll definitely be a repeat customer."        – Mike S.

"Always have a variety of pellets, delivered on time and dry. The driver was great in taking the time to place pellets in the location I needed them. Customer service are supportive and answer all questions in a timely manner."             – Joseph G.

"The customer service is always spot-on! Pellets are excellent quality, and delivery is always done well and timely. One of the best small businesses i've dealt with where they seem to get it perfectly with operations and quality. We've been a customer of theirs for 4 years now."         – Laurie G.

"I have been purchasing pellets from here for a few years and I like working with them for our heating needs. The pellets are top notch, competitively priced, and delivered in a timely manner with courtesy and professional competence. They go above and beyond to serve their customers."         -Mara B.
To help make your referrals even easier, print out this free sheet of referral cards, write your name on each line, cut them and hand some out to friends that could use our services.
Questions? Call the Experts at 1-800-PELLETS!