Many folks don't have space in their homes, sheds or garages for bulky pallets of pellet fuel. For years we've been reminding our customers that it's safe to store your wood pellets outside, as long as you secure a sturdy tarp over them.
Read >> How to Store Your Wood Pellets Outdoors
Read >> The Basics of Proper Wood Pellet Storage
But what if the tarp isn't properly treated to keep the sun from damaging the inner layers of plastic? Or what if the tarp's shape doesn't fully cover the pallet of pellets? Will the edges of the tarp fly up and expose your fuel to the elements? Won't it be difficult to access the pellets if I properly secure the tarp?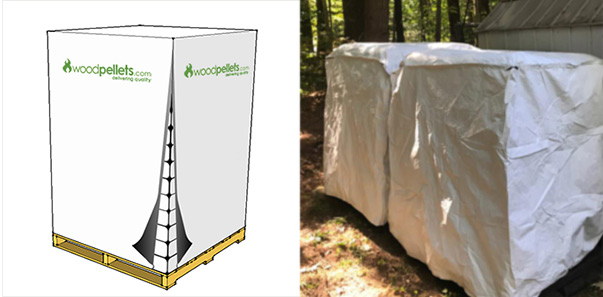 We have heard your concerns and we have designed a solution, which will be exclusively available from Woodpellets.com! These sturdy UV-treated tarps are made to fit perfectly over your wood pellets as they're delivered on pallets. Plus, one side has a very convenient strip of velcro to make opening up the tarp to access your fuel a breeze.
The entire Woodpellets.com team is very excited to announce these special pallet covers will be available soon – in both 1.5 ton and 1 ton sizes!