We hear this question a lot this time of year because it's not always possible to store wood pellets inside. Many folks don't have a garage or available dry space outdoors, but that's okay. In order to properly store your wood pellets outside, you just have to take a few extra steps.
Read >> See How This Family Sends Their Pellet Bags to the Basement for Storage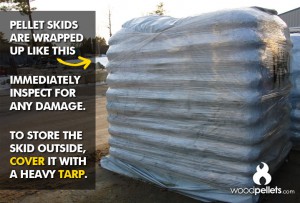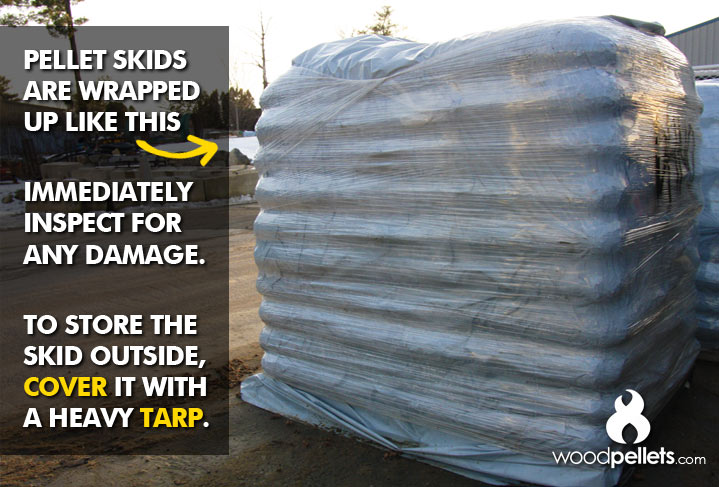 First, make sure to fully inspect your delivery as soon as possible. Your fuel is carefully wrapped and protected with a plastic shroud before it's sent out to you. If you find any rips or holes in the plastic shrouding, be sure to close them with water-proof tape or additional layers of plastic. Is there extensive damage or any wet bags? If so, call 1-800-PELLETS right away to speak with a Quality Manager.
The next step is very important.  Securely fasten a sturdy tarp over your skids. This will protect your fuel from water, weather and any birds or small animals that may try to puncture the plastic to make a home. Make sure the tarp is well connected to the pallet to avoid losing it with wind gusts.
Read >> Keep Your Outdoor-Stored Pellets Dry with This Simple Trick
If you're interested in a much more convenient tarp, check out our brand new custom pallet covers with velcro access! Available in a 50" height for 1-ton skids and a 72" height for a 1.5 ton skid, each protective tarp is 49 inches in length and width, with a white outside and black underside. The 8×8 woven material is rated for 1 year of UV protection to help with protection from the elements.
Helpful Tips for Outdoor Storage:
Always make sure your pellets are delivered to an area in your yard or driveway that is free from any water pooling or flooding.
Leave the shrouds the fuel arrived wrapped in on as long as possible.
Check on your unopened skids through the season to make sure everything is still secure.
Place a weighted object on top of the skid to keep the tarp in place.
Use a ball on top but underneath the tarp to prevent pooling.
Use empty milk jugs filled with sand or water tied to the tarp's edges to help properly secure it.
During the winter months, keep a path shoveled around your skids to help prevent any water and/or ice damage.
Make sure you do everything you can to protect your pellets. But in the rare instance they arrive damaged, all of our Quality Certified fuels are backed by guarantee. We are here for you if you have any questions.