Do you typically pick up your wood pellet fuel? If so, have you really broken down the actual cost comparison of pick-up vs. delivery? Of course, coming home from work to see your wood pellets already neatly placed in your driveway is much more convenient, but it comes at a price.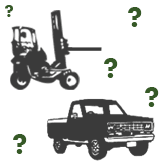 Depending on where you live and where you buy your pellets, wood pellet and wood brick pick-up and delivery may be available as an option for you. If you are ordering from Woodpellets.com, the website or one of our Customer Service representatives will let you know your options depending on where you live.
Our customers will often ask if the delivery fee is worth it.  After years of experience walking through the pros and cons, Woodpellets.com team members have decided to put together a cost comparison formula:
Here are the following variables to keep in mind when crunching your own numbers:
Miles Roundtrip: This is the total distance traveled from your house to the pickup location and back.
Mileage Cost: Use the average miles/gallon you get in your vehicle, or calculate based on the IRS standard mileage rate for the year.
Cost per Hour: How much is your time worth? How might you be spending those hours if you weren't busy picking up your fuel? Would you be earning money working? Spending time with your family? Getting house and yard work done? You might argue that your time is priceless. However, most people put some value on their time, so we typically use a $10 per hour example as the value of otherwise free time. 
Hours Spent: This is based on how far away you live from the pickup location, and loading/unloading time there and at home.
Ton(s) Loaded Per Trip: Most vehicles equipped for this task can carry between a half ton and one ton. Determine how much yours can take per trip.
Tons Used Annually On Average: Three to four tons is the most typical order size for Woodpellets.com customers. How much do you burn each heating season?
Another way to look at a delivery fee is by breaking down the added cost per bag – instead of on your order total:
If you divide a delivery charge of $59 across a standard order size of 3 tons…that's only an added 39 cents per bag!
As always, if you have any questions…give us a call at 1-800-PELLETS! We are happy to assist you.