If you've received a pellet fuel delivery, you may have wondered what you could do with the leftover wood pallets. Stephen B. of Massachusetts (a Woodpellets.com customer) showed us a few of his pallet projects:
Pooch Assistance
"The first is a doggie tunnel I made to give clear passage for the dog in the winter. The outside has plastic sheeting from a pellet shipment. Skye is our dog. When the weather is poor the tunnel helps her to get out of the doggie door."
Treehouse Hangout
"Here you see the pallet frame with the roof and porch framed. In the next photo I have the metal roof up and I'm getting ready for the siding. I used lots of other repurposed materials: old staircase from play system, telephone poles for supports, cedar fence panels, old doors."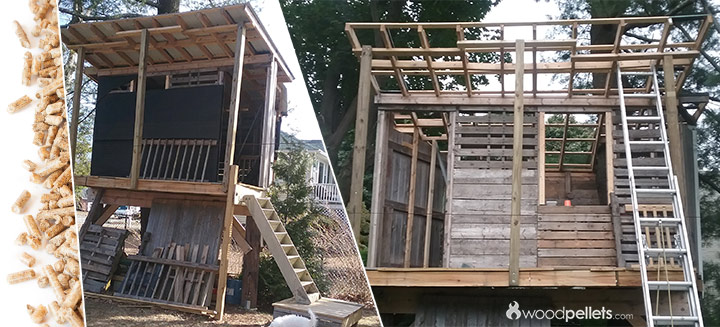 Clearly this structure is a large scale project. Stephen explains, "Been chipping away at the treehouse for a few seasons now. Free time is not too abundant."
He also somehow found the time to create this handy bottle opener to hang on the wall. As if we weren't already impressed, he tells there's a pellet bin project in the works too. Stay tuned for an update on that!
Do you have any wood pallet DIYs to share?
Tell us about them in the comments or on our Facebook page!