Whether you store your pellets inside a garage or outside, you might have enough space available to keep the pellet bags on the pallet just as they were delivered. If you only have a smaller space available, or if the placed dimensions are inconvenient to you, re-stacking the wood pellet bags by hand is how you can maximize limited space.
We successfully placed 3 whole tons of wood pellets (150 bags) in a 6 foot wide space using a very simple hand-stacking technique, described below.
Each layer of bags will be reversed in formation, but will have the same layout of 5 bags vertical and 4 bags horizontal. If you plan out your layer configurations ahead of time, it'll make the whole process easier.
The five vertical bags fit the six foot width, but the 4 horizontal bags will need a bit of adjusting. You can push these bags a little closer together to get them to lay at the same width as the vertical bags.
The next layer is the same formation – but with the five bags in front and the four in back. With each bag placement, make sure to smooth out each bag to make a flatter surface for the next layer.
Seventeen of these 9-bag layers, beside the top layer of 6, will make up the full 3 tons of pellets.
Important Re-Stacking Tip
No matter how you're formatting the bags within your space, be sure to maneuver the bags in your front row to build up more bulk. This bag molding method makes the front row a little taller, making the stack lean a bit towards the wall as you layer up. This will help prevent an unfortunate (and potentially dangerous) toppling of your bags. See the photos below, provided to us by a customer with his warning of "Don't shortcut" during your stacking.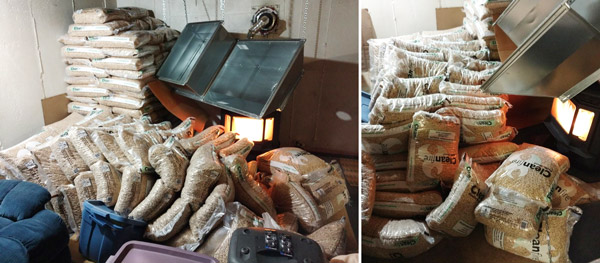 Still need to order your wood pellets for this heating season? You can always order online at Woodpellets.com, or call 1-800 PELLETS to speak to an expert!