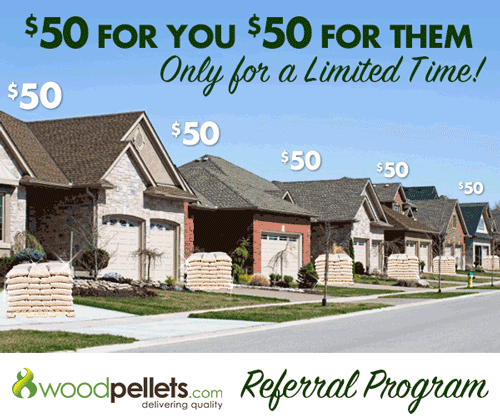 Only through December 15th, you can get DOUBLE the Pelletbucks for you and the person you refer to Woodpellets.com! For each successful referral, you will get $50 added to your account, and your friend will get $50 off their first order if it's placed by December 15th!*
Once your friend's first order is delivered, you will automatically be credited $50 for your next order. So, if you're happy with our service, our products and our convenient delivery…share the pellet love!
Here's an example: Woody is a current Woodpellets.com customer, and his neighbor Wilma is not a customer yet.
1. Woody tells Wilma about the convenient delivery options, the variety of high quality wood pellets available, and the expert customer support at Woodpellets.com. He tells her she'll love it, and she will get $50 off her first delivery if she mentions his name.
2. Wilma calls 1-800-735-5387 by December 15th to speak to one of the Woodpellets.com experts. After a conversation about what she's looking for, and what kind of delivery she needs, Wilma exclaims, "Woody referred me!"
3. Wilma receives a $50 discount on her order.
4. When her order is delivered, Woody's Woodpellets.com account is automatically credited $50!
It's as simple as that! And another thing…there is no limit on the amount of referral credits you can receive.
Share the pellet love with your friends! Here are just a few examples of some happy Woodpellets.com customers:
"Thanks to the Wood Pellets Team for another professionally delivered order, great service, on time, and with no hassles!  As a long time customer, we look forward to the same in the future.  We would not deal with anyone else except WoodPellets.com!"        -Ken, NY

"Just want to say thanks to you and the driver for letting me know there was a damaged bag of pellets. This tells me that you take quality and customer care very seriously. In this case it is not so much about the money, but about honesty and customer satisfaction."             -Ed, NH

"You have the best pellets that I have ever burned. Been buying them now for the last 3-4 years and not about to change. Best price and great service. You get no complaints from me."         -Richard, MA

"Just wanted to thank everyone! From helping me pick the right pellets, to the delivery person helping place the pallets in the best spot for easy access – everyone was super friendly and helpful."         -Katie, NH
Questions? Call the Experts at 1-800-PELLETS!
*Customer must mention referrer's name at the time of order for both parties to receive credit. Not valid on pickup orders. $50 bonus only valid on referrals made between 11/9/17 and 12/15/17.