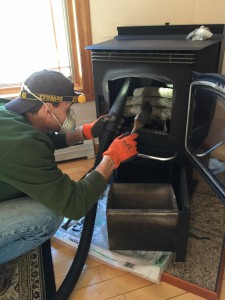 Aside from the usual ash removal and general maintenance, your wood pellet stove needs additional care in order to operate at optimal safety and efficiency. So when it was time to shut down your stove for the summer, did you take the time to do so properly? Instead of just pulling the plug and walking away, responsible pellet stove owners should have used a quick shut-down checklist:
Turn off your stove and unplug it from the wall entirely
Use an ammonia-free, heat-safe cleaning solvent to clean the glass
Clean out the inside of the stove and hopper as best you can
Remove all leftover pellets (burned and unburned)
Probably the most important part of shutting down for the summer is removing all leftover residue and pellets. If you have moisture inside your stove, the leftover pellets will absorb it. This can cause rust to form, which could lead to costly damage.