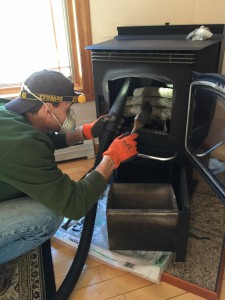 Aside from the usual ash removal and general maintenance, your wood pellet stove needs additional care in order to operate at optimal safety and efficiency. So when it was time to shut down your stove for the summer, did you take the time to do so properly? Instead of just pulling the plug and walking away, responsible pellet stove owners should have used a quick shut-down checklist:
Turn off your stove and unplug it from the wall entirely
Use an ammonia-free, heat-safe cleaning solvent to clean the glass
Clean out the inside of the stove and hopper as best you can
Remove all leftover pellets (burned and unburned)
Probably the most important part of shutting down for the summer is removing all leftover residue and pellets. If you have moisture inside your stove, the leftover pellets will absorb it. This can cause rust to form, which could lead to costly damage.
If you didn't shut down properly, or if your stove hasn't had a thorough cleaning in some time – you should consider scheduling one before the heating season begins. A bonus of having a technician work on your stove clean-up is that he or she is able to check on all the stove parts that might need replacement or adjustment.
Whether you're taking care of your pellet stove cleaning yourself, or hiring a professional – here's what the checklist should include for a thorough cleaning:
Check Unit for Visible Defects, Ash, Discoloring
Vacuum Inside of Unit
Remove Baffles – Clean and Reinstall
Clean and Inspect Heat Exchanger
Remove Access Doors/Panels – Vacuum and Reinstall
Clean and Inspect

Heat Exchanger
Burn Pot
Ignitor
Ash Pan
Convection Fan
Glass
Combustion Fan
Pressure Switch/Hose
Tee and Venting

Inspect

Gaskets
Electrical Wiring
Auger Motor(s)*
Venting Seals

Inspect Hopper for Pellet Quality and Excess Fines
Vacuum Back of Stove
Check and Lubricate Shaker Grate Cam*
Test Fire the Stove or Insert (Make sure the unit is fully operational)
 *May not be applicable on some stove models.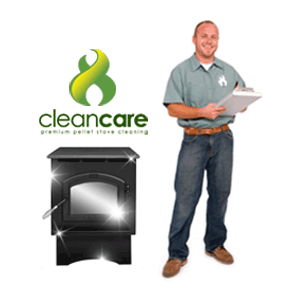 We understand that many pellet stove owners take care of cleaning themselves. However, sometimes things are best left to professionals trained specifically for a service. To see if Cleancare Professional Pellet and Wood Stove Cleanings are available in your area, please call 1-800-PELLETS, or type your zip code in at www.Woodpellets.com.