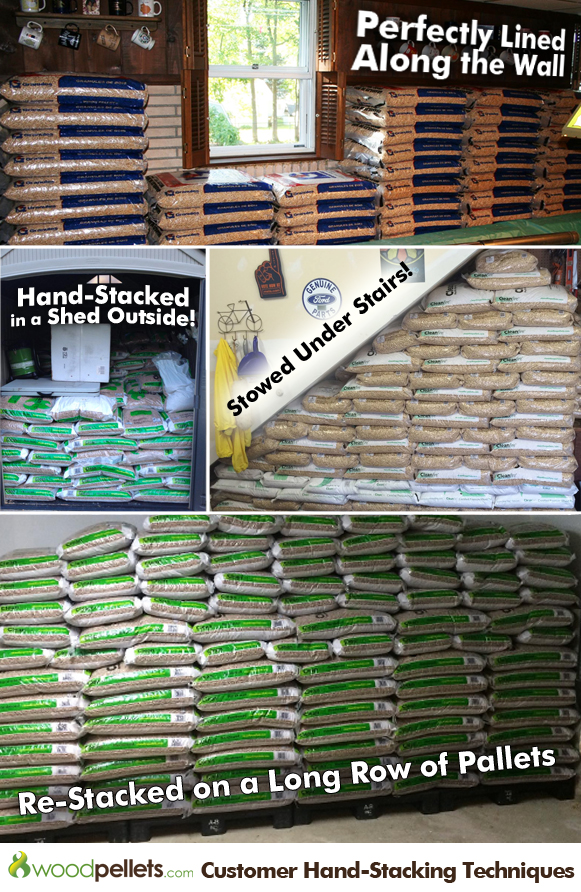 Unfortunately, there isn't always a bunch of extra space available to keep your wood pellets stored safely, and out of the way. Of course, it'd be best for your wood pellets to be stored inside, but there isn't always room for that! Unwrapping the shroud and re-stacking all the bags is a great solution to only having small spaces available. Take a look at how some of our customers stack their pellets indoors, here. Read how we stacked 50 pellet bags in a very tight space, here. Your pellets can also be stored outside successfully, if you take a couple of extra steps.
If you're having wood pellets delivered to your home for the first time, or are storing them in a new location, it's a good idea to measure out the space first in order to know what you can fit. First, let's start with dimensions, so you'll be able to plan your spaces effectively.
The approximate length, width and height of a standard 40 pound bag of pellets placed horizontally on the floor is 27 x 18 x 5 inches. These measurements can adjust a bit with some maneuvering of the pellets within the bag.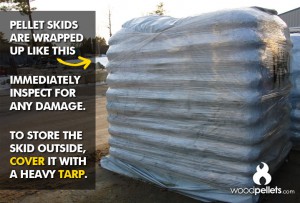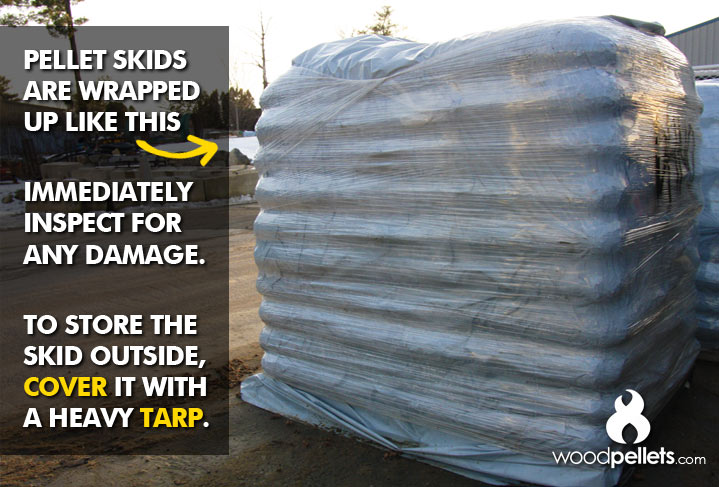 The length and width of a skid (a pallet of stacked and wrapped wood pellet bags) is 48 by 40 inches, and is about four feet tall. A 1.5-ton skid of 75 bags has the same length and width, but is about six feet tall. Check out the picture to the left to see what a skid looks like when it's delivered.
If you're only able to store your skids outside – you'll need to start with an inspection. Your fuel is carefully wrapped and protected with a plastic shroud before it's sent out for delivery. If you find any rips or holes in the plastic shrouding, be sure to repair it with water-proof tape or additional layers of plastic.
Also, before your skids are even placed on your driveway or lawn, make sure to choose a spot away from irrigation heads or water spray paths as well. You can instruct the drivers ahead of time on where you'd like your order delivered, or you can always leave a sign!
Next, add a a securely fastened tarp over your fuel, to protect it from water and from any birds or small animals that may try to puncture the plastic to make a home. Empty milk jugs filled with sand or water tied to the edge of the tarp is a great way to prevent it from flying up. If you have leftover bags from a past season, check out our tutorial on how to make them into an additional layer of protection, here!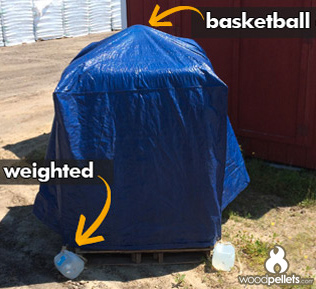 A great trick we tested last summer is so simple, but so helpful for outdoor storage! Place a ball on the top of the skid, under your layers of protection to keep water from pooling. It's so important to protect your pellets from contact with water, because it turns them back into sawdust.
Make sure you do everything you can to protect your pellets. If you find damage that has reached the actual wood pellets – call 1-800-PELLETS within 30 days of delivery to speak with a Quality Assurance representative.  All Woodpellets.com Quality Certified fuels are backed by a Quality Guarantee, which is valid for 30 days after the delivery date.