The average pellet stove owner has three tons of pellets delivered to his or her home on wooden pallets each year. What do you do with the pallets? We've shared 20 different ways to reuse the empty wood pellet bags, and even how to use them in a DIY Spring goody bag project – but what about the pallets?
You might have seen some pallet projects floating around online. Some of them take a lot of supplies, time, and serious handiwork. However, many just require some painting, a little hammering and some special touches. Take a look at some of our favorite DIY wood pallet projects!
Floor Book Cases | Difficulty Level: Very Easy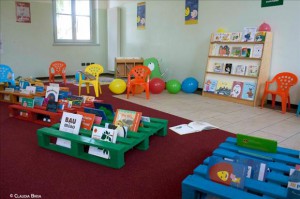 What a great DIY idea for teachers! There's almost no work involved in this project aside from sanding rough edges and painting. The sanding is important in this case – you don't want any splinters or sharp edges around little ones.
The pallets display the books for kids at their level, in a neat and easy-to-see way. The varied, colorful paint choices really brighten up the room!

Read more