We read every single feedback card we receive, because we love to hear straight from our customers. We appreciate ideas, honest criticism, and of course – happy testimonials. Check out what some of our recent satisfied customers have to say!
Laconia, NH: "Everyone was so helpful and easy to work with. I was nervous as this is my first time using a pellet stove and ordering. The staff on the phone were polite and very helpful. The delivery man was very helpful on choosing a spot to put the pellets. Could not have been easier."


New Ipswich, NH: "Love the 1.5 ton pallets! Much easier to store!"
Ludlow, MA: "Everything was fine – delivery came as expected, all was placed perfect. Thank you very much."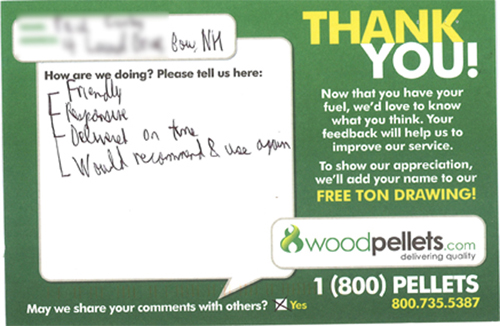 Bow, NH: "Friendly. Responsive. Delivered on time. Would recommend and use again."
Hillsborough, NH: "Thank you for delivering the pellets exactly as we asked."
Westford, MA: "My pellets are terrific. Delivery was perfect. The pallets of pellets were placed right where I wanted them."
Plainfield, CT: "Excellent! Very accommodating on delivery date. Delivery man is great!"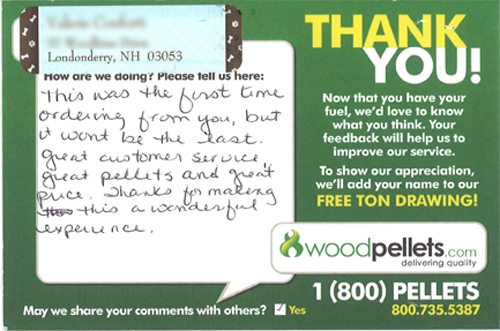 Londonderry, NH: "This was the first time ordering from you, but it won't be the last. Great customer service, great pellets and great price. Thanks for making this a wonderful experience."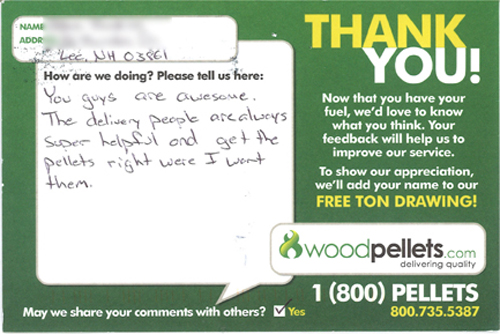 Lee, NH: "You guys are awesome. The delivery people are always super helpful and get the pellets right where I want them."
Somersworth, NH: "7 years in a row and first class all the way. On time, friendly and reliable."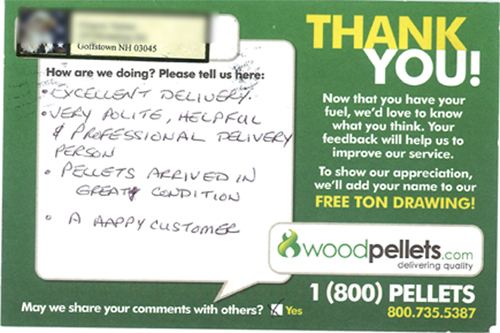 Goffstown, NH: "Excellent delivery. Very polite, helpful and professional delivery person. Pellets arrived in great condition. A happy customer."
Tewksbury, MA: "Delivery arrived on time. Driver placed pellets exactly where we wanted. Very satisfied customer!"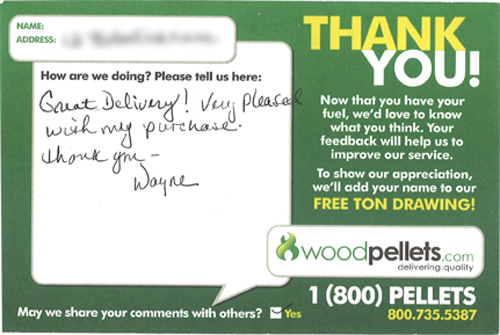 Cumberland, RI: "Great delivery! Very pleased with my purchase."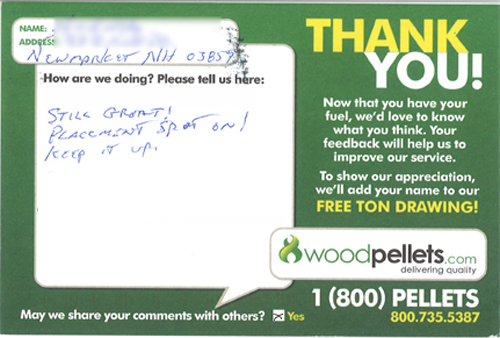 Newmarket, NH: "Still great! Placement spot on! Keep it up."
Manchester, NH: "The delivery person did a good job placing the pallets just where we wanted them. He was courteous as well. Keep up the good work, Woodpellets.com!"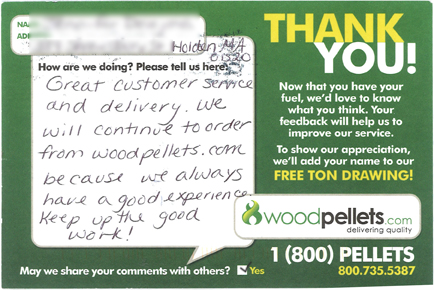 Holden, MA: "Great customer service and delivery. We will continue to order from Woodpellets.com because we always have a good experience. Keep up the good work!"
Have you ordered your fuel yet? Call 1-800-735-5387 to speak to an expert – or buy online!