October is here! Stores are packed with an endless supply of candy, costumes are available at every turn, and many houses are starting to look festive for the 31st. (We like to refer to it as Hearthoween!) We've told you about some great DIY wood pallet projects before, but did you know you can use your leftover wood pallets as spooky decorations? We have compiled our four favorite ideas, in no particular order below.
1. Creepy Temporary Wall
Spook Factor: 5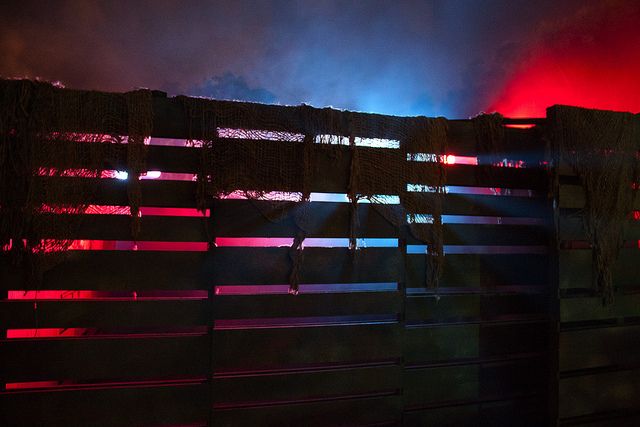 Now here's an easy way to make your house look totally different – and very eery. There are some variations on how you could do this, but the simplest way is to stack the pallets upright and zip-tie them together.
After securing your temporary wall, add your fog machines and back lighting of your choice. This photo shows some extra scary pizazz with dirty netting. Now is the time to get creative with your embellishments!
2. Monster Dungeon Effect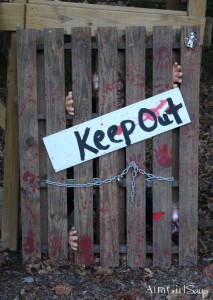 Spook Factor: 7


All you need for this project is a board or piece of paper, a black marker or paint, a chain with lock, and some faux hands! (Red paint is optional, in our opinion.) Simply lean your pallet upright so the boards stand vertically, and insert the faux hands as if they are reaching through the open spaces of the pallet.
Make it a "Monster Dungeon" by using an old costume's monster gloves instead of hands, and masks peering out from the spaces!
Add your "Keep Out" sign to really punch up the scary factor. Or perhaps write, "Beware" or "Danger" to change it up a bit. The chain and lock isn't exactly necessary, but it definitely adds to the dungeon motif. Add a spotlight pointing at your dungeon to keep the spook going at night!
3. Bad Guy Crate
Spook Factor: 9

Are you the house in the neighborhood that builds a haunted tour? Here's a very creative way to use some pallets in your creation: a Bad Guy Crate! 
You'll need 5 pallets to make the crate, a person willing to hide in the crate with a mask, and some eery lighting.
To skip using tools, you can use zip-ties again to secure the top and three stationary sides together into a little fort-like structure. If you want to have the door swing open, you'll need a base and some hinges.
To keep it simple, your "bad guy" can just hold the final pallet in place, or lean it against his or her structure in wait for some unsuspecting visitors. When the time is right, the front loose pallet can be thrown open!
To add extra scare-drama, light the inside of the pallet crate with a light controlled by a button. When your actor throws open the front pallet, he or she can simultaneously hit the light to show the visitors exactly what's scaring them!
4. Dual Purpose Pallet Pumpkin
Spook Factor: 2


This pallet DIY by Sustainablog actually serves two purposes – which is great for anyone with limited decor storage space. This blogger cleaned and sanded a leftover wood pallet, painted it orange and attached hooks to the boards. These few steps made a beautiful coat rack, which she hung in her entryway. 
When October came, she unscrewed the coat hooks, cut out eyes and a jack-o-lantern mouth from extra wood, and attached it to the orange pallet. She used a large stick for the "stem", leaned her coat-rack-turned-jack-o-lantern against her front steps, and added some faux cobwebs and extra touches! 
Who doesn't love a simple DIY and a dual-purpose? Remember: if you're using any kind of tools for these projects, please use caution, and kids should (of course) be supervised! Happy Hearthoween!
It's that time of year where pellet stoves are firing up. Have you ordered your fuel yet?
Buy your wood pellets online, or call 1-800-PELLETS (800-735-5387) to speak to an expert!