With delivery season in full swing, we thought it might be helpful to provide a general guideline for our customers on how to make your Woodpellets.com home delivery as easy as possible.
The more information you provide, the better. Does your road have heavy construction going on? Is your driveway hard to find? Does your address not come up on GPS? If our drivers know ahead of time what to be prepared for, we can better serve you. It's better to be up front about any tricky circumstances especially, so the delivery team can do all that's possible to find a solution ahead of time.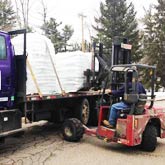 The forklift is bigger than you may think. It's actually over 8 feet wide, and the highest point is also 8 feet tall. It's mounted on the back of the truck, which parks in the road. The driver lowers it down to the ground, uses it to remove your fuel from the truck, and then drives it up your driveway to place the pallets where you need them. Due to the heavy weight of the load and the forklift itself, it can't be driven across any leach fields, sprinkler lines, or soft lawn/mud. Keep this in mind when deciding where to have your pallets of fuel placed!
You don't actually have to be home. If your schedule isn't meshing with ours, it's totally fine. As long as your instructions are clear (see above) and you let us know exactly where you'd like your fuel (see below), our driver can handle it in most situations without your physical presence. We also have your contact information in case something comes up, of course.
Note: Garage deliveries often involve the customer being at home, to open the door to allow the pallet jack to place the fuel inside. However, many customers are fine with leaving the garage door open if they can't be home at the time of delivery. It's all about whatever you are comfortable with! 
If you have a very specific placement requirement, mark it. Many driveway deliveries have instructions like this: "Please place pallets in front of the garage door". This is vague, usually because the customer wants the pallets near the door, so he or she can bring the bags inside to hand-stack. On the other hand, if you want a much more specific location for placement, mark the space with a sign, or an overturned trashcan, and let us know your indicator. Our driver will do everything possible to safely deliver your pallets where you want them.
The forklift's path must be clear. Forgetting to move cars out of the way is a common mistake, and one that can really make for a more difficult delivery. Keeping a clear path (at least 8 feet wide, including any turns) for the driver is important, not only for saving time – but for protecting your belongings. Our drivers are very careful and skilled, but as we mentioned before, the forklift is pretty bulky and difficult to maneuver in tight spaces.
Note: Moving cars, toys, and equipment out of the way is important – but so is getting kids and pets out of the area! Keeping children and any pets inside during delivery is very helpful to the driver. There are already many variables to think about during a delivery, so avoiding the addition of small running bodies to the mix is ideal!
Communication is key! Our delivery team will send you and email, text your phone, or call you (whichever way you've indicated you prefer) to confirm your delivery. Also, sometimes we reach out to confirm your delivery instructions, or to get clarification on something. If you get a message requesting a call or email back from our team, please don't forget to do so! Depending on the information we require from you, we probably won't be able to schedule a delivery if there are unanswered questions pending.
Regarding garage delivery: Are we able to move around in the garage for your Precision Delivery? Now that you've cleared your driveway for our equipment, have you cleared a path in the garage for the pallet jack? This is another sometimes overlooked step, unfortunately. The pallet jack, while smaller than the forklift, is still a heavy-duty piece of equipment, moving a 4-foot wide pallet of fuel. Make sure all the stuff that tends to accumulate in the garage is cleared out of the path of your fuel's final destination. See our quick video below, which shows a Precision Delivery in action!
We are always ready to answer any questions you have. Please give us a call at 1-800-PELLETS to speak to a pellet expert, or visit our website: www.Woodpellets.com for more information. We hope this guide on home delivery has been helpful!