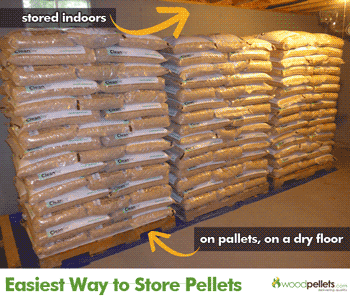 In a perfect world, you would have big open space indoors to store your wood pellets. Of course, that extra space isn't always available – especially if you have several pallets of fuel to store.
If you don't have room to store your wood pellets in the garage or basement, the next best thing is a shed or shelter in a raised, dry place.
If you have to store your wood pellets outside, you'll need to fully inspect the outer plastic that has been wrapped around your fuel, when it arrives. Check for any rips or holes where moisture can seep in. Make sure to repair any damage with water proof tape or additional layers of plastic.
If you find damage that has reached the actual wood pellets – call 1-800-PELLETS within 30 days of delivery to speak with a Quality Assurance representative.  All Woodpellets.com Quality Certified fuels are backed by a Quality Guarantee, which is valid for 30 days after the delivery date.
For effective outdoor wood pellet storage – you must add a tarp over the shrouding. This will help protect it from the elements, and from any birds or squirrels that may try to puncture the plastic. (Pallets of stacked wood pellets make desirable critter condos!) Securely fasten the tarp to the bottom of the pallet for the best coverage.
Remember, we provide advice simply as a guide to help you easily store your fuel. Woodpellets.com can't be held liable for any damage that occurs outside of the 30 day window (see above). 
Over the summer, we ran a simple test to determine the effectiveness of using a standard tarp on a pallet of shrouded wood pellets as extra protection from the summer elements. (Lots of rain over the months made for a great test!)
We did everything that we instruct our customers to do: inspect the shrouding for any rips, make repairs with waterproof tape, and cover with a secured tarp. Instead of tying down the tarp – we tried using refilled water jugs attached to all four corners.
Loose pellets were placed on the top of the shrouded pallet, underneath the tarp. Because of how wood pellets are made, they are super absorbent. This means any moisture seeping through the tarp on the top would be sucked in by the pellets, turning them to clumpy dust.
In July, the pellets were still safe, the tarp was still secured nicely by the weights, and we decided to add an extra idea to test.
We placed a basketball between the shrouded pallet and the tarp, to create an angle for rain to slide down and away. This simple trick blocks any water from pooling on the top! Why didn't we think of this before?
There was a lot of rain in New Hampshire this July, so we were able to see the basketball trick in action.
In August, the tarp was still protecting the wood pellets nicely, and the ball was still blocking water collection.
We were pleased (and not surprised) to find the loose test pellets to still be completely dry! Even more rain this month didn't hurt us.
Note: It's important to check on the pallets of fuel you're storing throughout the summer, to make sure there have been no changes to the protective measures you've taken. You don't want to open your tarps right before you need to start burning and find an entire critter condo association.
By the end of the summer, the tarp had a little fading from the sun, but no holes or visible weak spots. This tells us that the really light, inexpensive tarps are probably only super reliable for one or two summer/fall storage seasons. Winters with lots of snow like last year would be even tougher on these kinds of tarps. While this tarp worked beautifully all summer, we suggest a heavier tarp for the best coverage through multiple seasons.
Our test was successful, and our pellets were nicely protected all summer. Storing pellets outside during the snowy winter and rainy spring, however, require some extra steps. (See our post on storage through the seasons, here)
Do you have any tricks for how to store wood pellets outside? Please share with us!
As always – please give us a call at 1-800-PELLETS if you have any questions.