Summer is great for all things outdoors – especially camping. Even beginner campers know the gear basics to pack, but what about some fun, extra gadgets? We have compiled our eight favorites, in no particular order below.
1. Light-Up Grill Spatula
Prefer cooking over the grill instead of the campfire? Don't let the grilling stop when the sun goes down! A spatula with an attached light shines right where you need it – without attracting unwanted bugs with bigger lighting.

2. Double-Prong Roasting Stick Attachment
Make any stick into the perfect campfire roasting stick with this 2-prong attachment. It will hold your hot dogs securely in place, and toast two marshmallows evenly at once. (Check out how Cleanfire Wood Bricks make the perfect campfire bed for roasting here.)
3. Edible Cups
Totally edible, compostable cups are the answer to environmentally unfriendly disposable cups! The creators made the cups from gelatin, in a variety of flavors like vanilla and tart cherry.
4. Foldable Cooking Pot
This stainless steel pot folds into place from being flat – which will save you precious space! It's specially designed for camping, and is super durable.
5. Campfire Popcorn Popper
Pop popcorn or roast chestnuts right over your campfire! It's easy to use, comes apart without tools for easy packing, and is made of steel and a BBQ grade baked enamel finish.
6. Portable Kitchen Sink
Make cleanup easy with this lightweight portable "sink", which could also be used for laundry or an open cooler. Its available in a larger 20L size and a smaller 5L size – which is perfect for a dog water bowl!
7. Safe-Distance Campfire Roasting Rod
If you'd rather skip the hunt for a solid roasting stick, or don't have the double-prong attachment we mentioned above, you can use this nifty fishing-inspired rod! This tool is also perfect for keeping a safe distance from the fire, which is great for kids that want to participate.
8. Campsite-Friendly Campfire Wood Bricks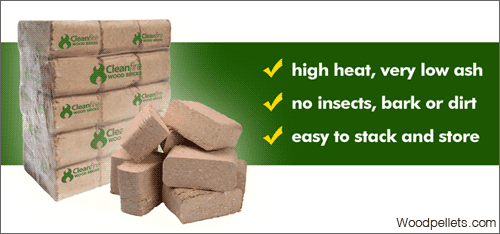 Most campsites do not allow firewood to be brought from outside sources because firewood can transport insects that can hurt trees and spread disease. Wood bricks are made as a firewood alternative for wood stoves, but are great for campfires too.  They're bundled in shrink-wrapped packages of 15 to 20 bricks, and are safe to bring into campsites.
To check availability of Cleanfire Wood Bricks in your region, call 1-800-735-5387 or enter your zip code at www.woodpellets.com.
Do you have anything to add to our list?