The average pellet stove owner has three tons of pellets delivered to his or her home on wooden pallets each year. What do you do with the pallets? We've shared 20 different ways to reuse the empty wood pellet bags, and even how to use them in a DIY Spring goody bag project – but what about the pallets?
You might have seen some pallet projects floating around online. Some of them take a lot of supplies, time, and serious handiwork. However, many just require some painting, a little hammering and some special touches. Take a look at some of our favorite DIY wood pallet projects!
Floor Book Cases | Difficulty Level: Very Easy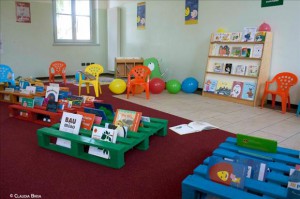 What a great DIY idea for teachers! There's almost no work involved in this project aside from sanding rough edges and painting. The sanding is important in this case – you don't want any splinters or sharp edges around little ones.
The pallets display the books for kids at their level, in a neat and easy-to-see way. The varied, colorful paint choices really brighten up the room!

Pallet Theatre Seating | Difficulty Level: Easy
The most difficult part of this pallet project is finding the right cushions and pillows to add. This person used ten wood pallets to make tiered theatre seating. Only sanding, painting and a few nails or wood glue is involved here!
You can choose what color or stain to make the pallets, and what color combinations for the embellishments for a wide range of options. This DIY is sure to impress your house guests!
Pallet Coffee Table | Difficulty Level: Easy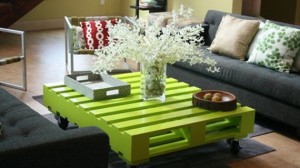 This low-profile coffee table is not only fun – but functional! The lower portion of the existing pallet makes for great storage to hide magazines, remotes, laptops, and any other clutter.
This particular DIYer chose to fasten wheels to the bottom of the sanded/painted pallet to make it easy to move around the room. You could also opt for stacked, secured pallets flat on the floor for a taller, stationary table.
That pop of lime is a bold color choice!
Pallet Coat Rack | Difficulty Level: Easy to Moderate
A mudroom or entryway rack made from painted wood pallets not only provides great hanging options, but it also brings an interesting texture to what could be a pretty lackluster room.
Removing the bottom part of the pallets, adding mounting brackets to the back and positioning them vertically on top of one another is all it really takes. If you have a lot of open wall, continuing with more pallets would give you so much more space!
You'll definitely need to secure your pallet brackets to solid studs in the wall, so you can hang plenty of items on it without the risk of it falling.
The added hooks are moveable – which allows storage space for a variety of sizes and shapes to hang. This person even hung a clock!
Wood Pallet Fencing | Difficulty Level: Moderate
Having trouble with intruders munching on your garden? If you have a bunch of pallets saved up from years of pellet deliveries, you could build yourself a very inexpensive fence!
What makes this project "moderate" instead of easy is the part where you'll need to attach stakes on the bottom of the pallets to secure them upright into the ground. To attach the pallets to one another, you'll need plenty of zip ties, hinges or nails.
Pallet Organizer/Storage | Difficulty Level: Moderate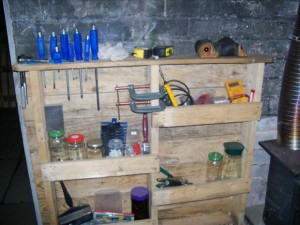 This DIY is completely customizable to your storage needs!
The bottom of the pallet has been manipulated to create varying shelf heights, and holes have been drilled to easily hold screwdrivers. If you skipped mounting it, moving it around to different spots would be easy by just leaning it against a solid wall.
This is a perfect way to give your garage, shed or basement some extra (free!) storage.
Pallet Wall Planters | Difficulty Level: Moderate to Hard 
What a beautiful way to use wood pallets as colorful hanging planters on an otherwise plain outdoor wall!
The size, placement and color are all up to you – which also determines how much work you'll be putting into this project. Hanging a whole pallet will be significantly less time-consuming.
However, by cutting down multiple pallets into different sizes, like in the picture, the wall really pops!
Pallet Pots Hanger | Difficulty Level: Hard
Not a lot of storage room for all those pots and pans in your kitchen? Hang them up on your handmade pot rack made out of a wood pallet!
Much like the wall planters, the size and amount of work required will really be up to the DIYer. Just keep in mind that the bigger you make it, the heavier it'll be hanging from your wall.
To make this pots and pans rack, you'll be cutting down the pallet into your desired shape and size, screwing hooks into the wood where you want your items to hang, removing the bottom part, and securing sturdy chains on each end to fasten to the wall.
Remember to find studs when attaching the chain anchors, because it'll be holding quite a bit of weight!
Pallet Laundry Sorter | Difficulty Level: Hard
Making a polished laundry sorter out of wood pallets is definitely going to take some serious work and some talent for DIYing.
This person removed some of the boards on two pallets for the front and back, and cut the sides to shape out of another pallet. The top and bottom are nicely finished with leftover pallet parts. (Again, this project requires some skill and experience, hence the "hard" difficulty rating).
This could also be used as a recycling organizer or a great storage solution!
Remember: With any DIY project comes some risk. Make sure to practice safety first! Use protective eye wear and only use tools you're familiar with. If kids are helping out – they should always be under adult supervision!
How do you reuse your wood pallets? We'd love to hear about it!