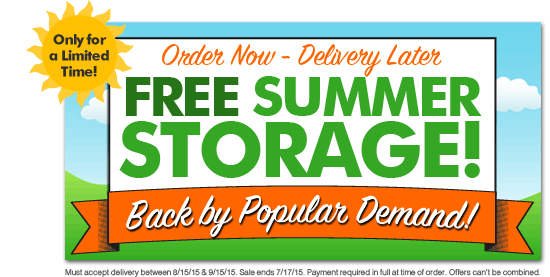 In May, Woodpellets.com offered a free summer storage promotion that was wildly popular among our customers. The buy now – take delivery later option was perfect for those who wanted to take care of ordering their fuel early, but didn't want to give up precious space over the summer for storage.
We received so many requests in June to bring this offer back – we decided to do it! For a limited time only, you can order your wood pellets or wood bricks now, and not have to worry about taking delivery until between August 15th and September 15th!
Why is this offer so popular?
Buying now means you'll be all set for the upcoming heating season. You're way ahead of the rush that will come later in the season.
The current pricing locks-in for you. If prices rise later – it won't affect you at all.
You can enjoy the rest of your summer knowing your pellets are ordered, but you don't have to even see them yet!
Don't wait too long – you have to order your wood pellets online or by phone before Friday, July 17th to get free storage!
Call 1-800-PELLETS (800-735-5387) to speak to an expert!