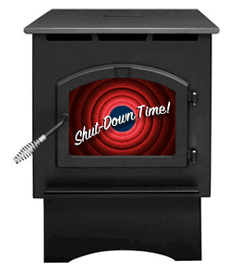 It's about that time to shut down your pellet stove for the summer! Considering pellet stove costs range at an average of around 2-3 thousand dollars, with some at double that price, this heating appliance is a real investment that will benefit from a few extra steps taken for season shut-down. Instead of just pulling the plug and walking away, responsible pellet burners should have a quick shut-down checklist to follow.

Many owner's manuals that come with pellet stoves are an excellent resource filled with tips and guidelines for maintaining a healthy stove. We have compiled our own Pellet Stove Season Shut-Down Best Practices, co-written by a Cleancare professional pellet stove technician.
Turn off your stove and unplug it. (You should have a surge protector.) Let it cool completely before you begin the process. Start by cleaning the glass with your heat-safe cleaning solvent and a soft cloth, like you have been doing through the heating season. Do NOT use any cleaning solvent with ammonia in it, because it can damage the glass.
Clean out the entire inside and within the hopper, to the best of your ability. If you have a stove vacuum, this will help make sure everything is removed. (Do NOT use a household vacuum because the fine ash can damage it). Or you can always rely on a trained stove technician to use his or her professional tools.
Do NOT leave any wood pellets inside your stove – burned or unburned. Wood pellets are made of kiln-dried, fine wood fibers which will absorb any moisture. If you have moisture inside your stove, the leftover pellets will absorb it and can cause rust to form through the summer which can create costly damage later.
For this same reason, cleaning out all the ports and passages inside your stove is important for your stove's health. If you are unable to safely get inside the inner parts of your stove, and have never done so before, we do not recommend this without professional help.
Not only are clean passages a best practice for when your stove is shut down, but also during the burning season as well. According to Energy.gov, "Even one-tenth of an inch of soot can drop the heat transfer efficiency of the metal by 50%."
Following this simple guide will help keep your stove's efficiency high, and make your start-up later easier. However, make sure to check your owner's manual for any suggestions that might be specific to your brand of pellet stove. For an extra precaution, schedule a summer cleaning/inspection by a trained pellet stove professional technician.
A professional appointment can either expand on your work, or completely take care of it for you. A cleaning and inspection is also a great time to check on all the stove parts that might need replacement or adjustment. This is the time to get that done, instead of when the nights are cold in the early heating season and you want your pellet stove running.
Whether you decide to handle your season-end cleaning yourself, or hire a professional, make sure to get it done early. Much like leaving that baked on lasagna in the dish, it's far easier to clean right away rather than waiting.
To see if Cleancare Professional Pellet and Wood Stove Cleanings are available in your area, please call 1-800-PELLETS, or type your zip code in at www.Woodpellets.com.