"I want to try a new brand or type of wood pellets, but I'm concerned about taking the leap."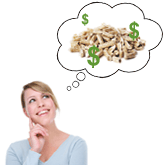 Buy both! If you have been burning hardwood pellets, you might be curious about upgrading to softwood. (e.g. Cleanfire Hardwood vs. Cleanfire Pacific) Or perhaps you already burn softwood pellets, but you're wondering if there's really a difference when upgrading to a higher-level. (e.g. Cleanfire Pacific vs. Cleanfire Douglas Fir)
In order to really understand the difference between two different types or brands of wood pellets, you should burn at least a ton of each consecutively. This will give you enough time and fuel to let you really tell the difference in heat output and ash buildup between the pellet types.  Depending on your stove, you may need to adjust your pellet feed rate and blower speed, especially if you are trying a hotter pellet than you normally burn.
Before you start burning, make sure your stove is nice and clean.  Keep your settings adjusted to how you normally would. As you work through the first ton, take note of how often you have to clean out your burn pot and how the heat intensity feels. Once the first ton is gone, your pellet stove should be cleaned up before burning the other ton. Repeat the process, adjusting the stove as needed for the difference in heat output from the pellets.

Comparing your burning and heating experience with both types of wood pellets will likely take care of those pellet curiosities. (Not to mention how much cleaner your stove may be with one pellet or another.) Knowledge is power!
"I have a wood stove also, and I'd like to try wood bricks."
If you have a wood stove and haven't tried compressed wood bricks, it's worth it to try them. Low ash, super high heat, and convenient packaging are some of the biggest reasons wood stove owners have supplemented their supply of cordwood, or switched entirely. If you have both types of stoves and you're ordering your wood pellets, you can just add a ton of wood bricks to your delivery. Since this new kind of wood fuel is different than cordwood, it's an easy way to try bricks out without committing to buying a whole heating season's worth.
"Can I order more than one product at a time to have one delivery?"
Yes – most retailers will let you mix and match different types of fuel in your order. If you are going to try something new, there are two things you should look for. First, look for a retailer that doesn't increase the delivery fee with larger order sizes. This will avoid any increased costs for your test fuel. Second, if the retailer has a minimum order size, make sure that a mixed order will satisfy the minimums. For example, if a retailer requires a 2 ton minimum order, make sure that ordering one ton each of two different pellet types will apply.
If you're looking to try something new, we are happy to help. If you're ready to order two (or more) types of fuel, you can just order them directly off our website. If you have any questions, and would like to talk through your options with a Woodpellets.com Pellet Expert, just call 1-800-PELLETS!
Product availability and pricing varies by region.