It's late into the winter – yet the Northeast is still being relentlessly hit with heavy snow and freezing temperatures. You might be starting to wonder if your pellet supply will last you through the rest of the heating season.
You're not alone in this quandary.
This is a tricky time of year – where a wood pellet user must decide to gamble with a low supply and risk potential supply shortages, or choose to just play it safe and top off his or her supply now.
Of course no one knows for sure what will happen with the weather for the remainder of the winter. There is historical data, professional forecasters, and even a groundhog that can give a prediction – but there is no real way to know with absolute certainty. Earlier this year, we wrote about the Farmer's Almanac weather prediction, which hasn't been fully accurate. The Northeast prediction was a much colder than normal winter, which has been true, and "below normal snowfall", which has not been true. Unfortunately, last winter much colder than many had anticipated…leading to a late winter shortage in many areas. With the harsh winter we have already experienced, there is certainly a possibility for more regional shortages again this year.
So, are you at risk of running out of pellets? Well, there are many factors that will determine your risk. Your pellet stove model, the prominence of secondary heating sources, the type of wood pellets burned, and the area of your home you heat with pellets are just some of the many variables that affect your fuel consumption.
To determine whether you are at risk of running out, just use a simple calculation starting with the amount of bags you go through in one week. An easy way to keep track of this is to look at how many empty bags you accumulated last week. Multiply that number by how many weeks you could realistically assume there are left in the cold winter. Keep in mind there are weeks following the main heating season where you are likely to be using your stove for cold nights into the early Spring. For these warmer weeks, you won't be using as many bags. Start to decrease your weekly bag usage to taper off through April and May.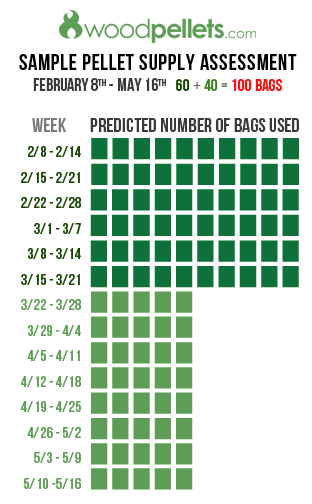 Here's a quick example of an average pellet stove user's calculation:
Kelly uses her wood pellet stove as her main heating source in her 2,000 square foot home. She has one ton remaining (50 bags) from her 4 ton delivery in September.
Kelly counts 10 empty bags she burned in the first week of February. Assuming temperatures stay fairly cold, she will continue burning 10 bags a week for the next 5-6 weeks (approximately 60 bags).
Kelly knows she is likely to continue using her stove into mid-May; consuming a smaller 5 bags a week for another 8 weeks (another 40 bags).
Therefore, Kelly will require approximately 100 bags total to get her through the remainder of the heating season. She already has 50 bags remaining from her original fuel order.
Kelly decides to order an extra ton of fuel (50 bags) to get her through the rest of the winter (and avoid the risk of running short).
If you do the math and feel unsure about what you have left – give us a call at 1-800-PELLETS. Our pellet experts can walk you through your burn needs, and help you place an order if you need to top off your supply now. Our website is always open for easy online orders as well. Happy Heating!