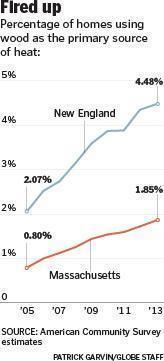 "At some places, it was just a recorded message: 'We have no firewood for the season.' " a Natick resident explained to the Boston Globe about her trouble finding firewood. Unfortunately for wood stove owners, she's far from alone in her struggle. The Northeast is experiencing another tight supply of firewood this year, and what's available costs up to 25% more than it did last year.
While it's an inconvenience for those using firewood as an ambiance enhancer – it's much more serious for many New Englanders in need of wood heat for their homes. Census data reports wood used as a main heating source has increased most notably in the Northeast. According to the report, "All nine states in the New England and the Middle Atlantic Census divisions saw at least a 50% jump from 2005 to 2012 in the number of households that rely on wood as the main heating source." Although the demand for firewood has overloaded the supply of late – there is an alterative.
Compressed wood bricks are made of kiln-dried, super-condensed wood chips and sawdust. At less than 10% moisture, these dense bricks pack super hot heating power. Wood bricks can be burned alone, or as a supplement to firewood. Natural sap from the wood particles is what binds the bricks together tightly, which means no chemicals or additives. Also, wood bricks have no messy bark, dirt or insects – which is common with firewood. While it's not a good idea to keep even tarped wood bricks outside, shrink wrapped bundles make finding inside storage simple.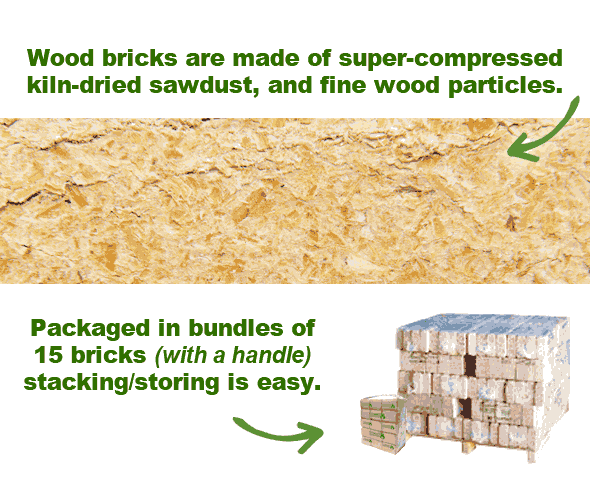 Many wood stove owners, either frustrated with messy firewood or tight supply, are turning to wood bricks…and are sticking with them. Interested in switching to wood bricks? Call 1-800-735-5387 to speak to an expert, or buy wood bricks online. Check availability in your area, and get a free quote!