Two of the main contributing factors to what makes the Woodpellets.com experience different are – product quality assurance and the convenient delivery system. In order to explain these processes accurately, we let Joy (Quality Assurance Manager) and Dan (Delivery Logistics Manager) describe their main responsibilities – in their own words.
Quality Assurance Manager: My primary function is to work for our customers.  I am the before, during and after the order point of contact – from Customer Service, to the burn experience at home.  Basically, the service doesn't stop with the delivery – because I'm there to make sure user expectations are met and (hopefully) exceeded.

Some may call my position the least fun in the office. However, I love my job.  I get to hear the praise as well as the things we need to improve on.  This is where the Quality Guarantee comes into play. It has evolved over the years since we started, and will likely continue to improve.  Nothing can be perfect – so I am always ready with the Quality Guarantee to assist in those rare occasions where the experience isn't what it should be.
If there is an issue or concern, I have a step by step process I work with to ensure I make your situation right.  Our products aren't small and neither is our delivery coverage. Therefore, using pictures is the most effective way to help solve the problem.  I work with the mill to get your claim resolved quickly, and to your satisfaction.  If the issue is non-fuel related, and I am unable to assist with troubleshooting, we have a trusted network of professionals to connect you with.
Delivery Logistics Manager: I oversee all  of the physical movement of our products from manufacturing plants in the U.S. and Canada, to customers' homes throughout New England and the Mid-Atlantic States.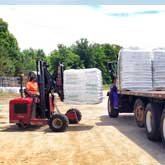 First, we move product to 15 different warehouses via railroad and full truckload delivery. Then we "batch" 4-7 proximate customer orders together for home delivery on a given date. We confirm delivery timing and placement instructions with each customer before finalizing the run. Some homes have tricky driveways, or the customer has a very specific way in which he or she wants the fuel placed. That's why the confirmation step is so important – because we want the delivery to be as smooth and convenient as possible for our customers. The deliveries are executed with a combination of Woodpellets.com-owned trucks and hand-picked independent delivery contractors. On any given day we might have as many as 25-30 of these delivery runs scheduled across our delivery coverage area.
During our busy season (late August-December), I'm mainly consumed by "fixing" all the little things that interrupt the smooth flow of product described above. There are many moving parts in a delivery system, and therefore multiple factors that could make some bumps for us. Bad weather, equipment repairs, sickness/family emergency with a driver, or something as simple as a phone call saying delivery can't be made because a car is parked in the customer's driveway are some common examples. That's why it's an exciting and ultimately rewarding experience to hear from so many customers that we have exceeded their expectations for scheduling communication and professional delivery.
Questions? Comments? Give us a call at 1-800-PELLETS. We'd love to hear from you!