I Keep Getting Clinkers in My Burn Pot. What is Causing This?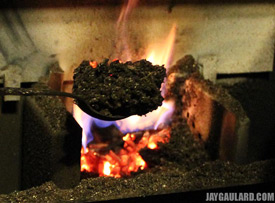 Clinkers, which look like clumps of ash, can cause airflow issues from blockage. Clinkers are formed by burned or partially burned pellets that melt together into a clump.
There are two likely reasons for clinkers – a poor air mixture which due to a neglected or dity unit, or incorrect air adjustments.
My Pellet Stove Won't Ignite.
There are a variety of reasons for your pellet stove failing to light.  The most common reasons – bad air flow, a dirty unit, bad igniter, blown fuse, bad gasket around igniter – could be easily avoided with regular maintenance and professional inspections.

The Heat Isn't As Hot As It Should Be.
Not feeling the heat you were expecting can be frustrating. The most likely culprits for this issue are – a dirty unit blocking proper airflow, a neglected/dirty heat exchanger, and incorrect blower settings. If none of these are the cause, and you purchased your fuel from Woodpellets.com, give our Quality Control Manager a call to walk you through what's happening.
My Stove Keeps Shutting Down
Many newer units will flash a light on the unit, and will give a reason on the screen for the shut down. You may have noticed the common causes for most pellet stove problems by now – a dirty unit, and poor air adjustment which won't provide enough heat to trip the sensors. Also, your pellets might not being feeding into the auger correctly, due to a worn down or broken part.
My Flame is Very Lazy
If your flame is weak, or "lazy", you're not getting the heat you need and your stove might shut down. This problem is most likely caused by a bad or weak blower exhaust, poor air adjustments, or an uncleaned/neglected pellet stove.