Myth #1: Hardwood Pellets are Better than Softwood
Preference for hardwood over softwood has its origins in the firewood burning community. It has long been considered better to burn hardwood in your wood stove or fireplace because it provides a longer burn compared to softwood. The main reason that hardwood burns better than softwood in wood stoves/fireplaces has to do with wood density (hardwood is more dense than softwood).
However, with wood pellets the advantages of hardwood are neutralized by the pelletizing process. Both hard and softwood material is dried to the same moisture level, of about 4-5%. Furthermore, regardless of the type of wood used to produce the pellets, the pelletizing process produces wood pellets with the same density.  Once the moisture and density variance has been removed during the manufacturing process, softwood comes out ahead in terms of heat and performance.
But why does softwood produce hotter pellets with less ash? Biomass Magazine explains: "softwood has a higher percentage of resin content than hardwood, which will produce more heat per pound."
The choice between hardwood and softwood pellets is entirely up to the consumer. There are some very high quality hardwood pellets available in the market that perform very well, but for the most part, softwood pellets will typically provide you with more heat for your money.
Myth #2: Pellets Can't Be Delivered in the Rain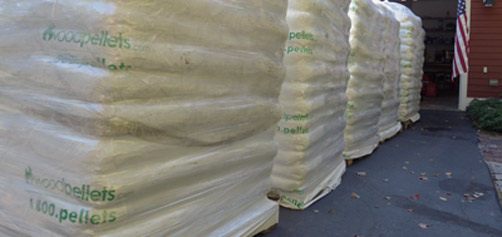 Our wood pellets have many layers of protection, and can easily be delivered in the rain without any issues. In fact, many of our brands come packaged in multiple plastic shrouds – that will ensure the pellets are kept dry and safe.
Of course, on the long journey from the mill to your home, problems may arise. It's not uncommon for forklifts to damage the shroud. Or in some cases, the skids rub against each other on the truck and create weak spots on the shroud. When your pellets are delivered, make sure you carefully check the skids to find any potential problems. Give us a call right away if you spot any damage.
Note: The small holes on the sides of the pellet bags (known as bag vents) are a necessary part of the bagging process. If you see rows of small, regular holes, rest assured that these are perfectly normal and are designed to keep your pellets fresh!
Myth #3: Pellet Stoves Don't Need Professional Care
Of course, regularly cleaning your stove is typical. But did you know that if your stove hasn't been professionally cleaned, your pellets might not be burning at full potential? You might be the handy type that knows how to take apart your stove and thoroughly check it. However, much like professional service for your car, your pellet stove needs some professional care for optimal heating efficiency and safety.
The mechanical and electric components that make up your pellet stove can eventually wear out and need repair or replacement – so an inspection could help prevent a surprise part-malfunction. Take a look at our post on what a professional stove cleaning should include, here.
In some areas of New Hampshire and Massachusetts, we offer Cleancare Professional Stove Cleaning and Inspections through our trusted, certified pellet stove technicians. Give us a call at 1-800-PELLETS, or enter your zip code on our website to see if Cleancare is available in your area.
Myth #4: Delivery Equipment Can Go Anywhere
Our forklifts aren't small. At up to 9 feet tall and 9 feet wide – this piece of equipment will probably not fit into your garage or shed. This is why in most areas, we offer a pallet jack delivery service option, which enables us to go inside your garage to place your pallets right where you want them.
In addition, our forklifts are very heavy – especially when carrying 1-1.5 tons of wood pellet or wood brick fuel. If you need us to drive across your lawn (and risk causing tire imprints or ruts in your lawn), we may have you sign a waiver first.
However, under no circumstance will we drive across leach fields, irrigation systems, or any other structure that could be damaged from the weight of the forklift. For a detailed guide on how to make your delivery as seamless as possible,read our post about what to expect during your wood pellet delivery.
Myth #5: Wood Pellets Can't Be Stored Outside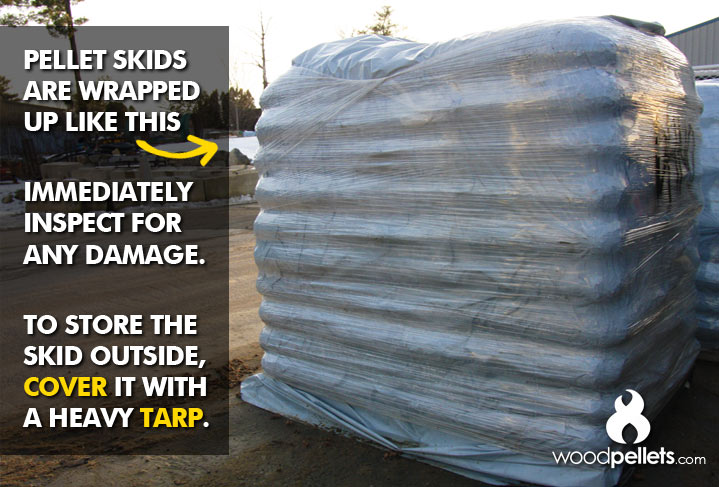 Although your pellets can't have direct contact with water, you can store them outside! Of course, it's best to keep them inside long-term – but if you only have room for them outside, be sure to fully inspect your fuel when it arrives. As we mentioned earlier, our fuel is carefully wrapped and protected with a plastic shroud before it's sent out for delivery. Upon inspection, repair any rips or holes in the plastic shrouding with water proof tape or additional layers of plastic. If you notice there has been damage, just give us a call to speak with a Quality Assurance Manager.
To effectively protect your pellets from water and from any birds or squirrels that may try to puncture the plastic, securely fasten a tarp over your fuel.
Try to keep snow and any water pooling away from your pellets as much as possible. Keeping them stacked on the pallet is a great way to keep them raised off of the ground. Remember, the additional tarp is very important for prolonged time stored outside. Be sure you fasten it to the bottom to prevent the wind blowing it away.
Make sure to give us a call if you have any questions. Our team of Pellet Experts is ready to take your call, at 1-800-PELLETS!