November is a wonderful time of year. (Surely by now you've ordered your wood pellets and/or heating fuel, or it has already been delivered.) The leaves are still changing and falling, the air is crisp, and before the holiday shopping kicks into high gear – Thanksgiving brings everyone together. Since we are feeling so festive, we thought it would be nice to compile some easy new recipes for the big day, leftovers ideas, place-setting guidelines, and a handy cleaning tip. First, let's start with the bird.
An Alternative Style of Turkey:  Easy Southern BBQ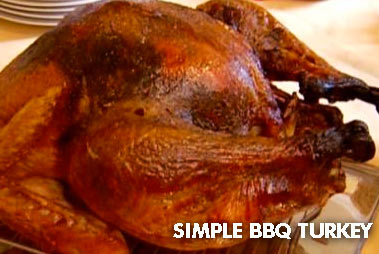 Preheat your oven to 350 degrees.
Prepare Seasonings: In a bowl, whisk 6 tablespoons of paprika, 6 tablespoons of brown sugar, 2 tablespoons onion powder, 2 tablespoons garlic powder, 2 teaspoons black pepper and 1 teaspoon cayenne pepper.
Place a rack in your large roasting pan. Remove all insides from your 14-16lb turkey. Pat the turkey dry and tuck the wing tips in. Use your mixed seasonings under the skin and all over the skin. Sprinkle all over and inside with kosher salt (no more than 3 tablespoons).
Stuff the turkey with orange wedges, onion wedges and unpeeled garlic cloves. Tie the legs of the turkey together and pour 2 cups of water in the bottom of the pan. Roast for 2 hours uncovered. Loosely tent the turkey with foil, and roast 30-60 minutes more, or until your thermometer reads 165 degrees F. Remove the turkey from the oven and let stand at least 15 minutes before carving.
Healthy Starch Alternative: Sweet Potato Cauliflower Mash
Ingredients: 
3 lbs sweet potatoes, peeled and cut into 1 inch chunks
1 large head of cauliflower, cut into florets
1/3 of a cup extra virgin olive oil
6 leaves fresh sage
2 small cloves garlic, crushed
1/4 cup low fat milk
In a large saucepot (7-8 quarts) combine sweet potatoes, 3 tablespoons salt and enough cold water to cover by an inch. Cover partially and heat to a high simmer. Remove cover and add cauliflower florets. Simmer for another 15 minutes.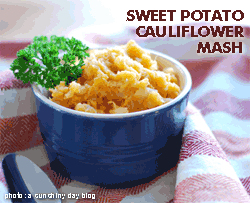 While you're simmering, heat oil on med-low in a small saucepot. Add the sage and crushed garlic, and cook for 4-5 minutes. Remove and discard the sage leaves.
Drain the vegetables well and return to the empty pot. In a food processor, puree the vegetables until smooth and transfer to a large bowl. Add your oil mixture, milk and a 1/4 teaspoon of sea salt, mixing to combine. Simple and healthy!
Leftovers: Make the Most of Them!
Pulled Cran Turkey Sandwiches: Simply whisk together a cup of leftover cranberry sauce, 3 tablespoons ketchup, 2 tablespoons of Worcestershire sauce, and a pinch of salt in a medium saucepan. Cook and stir until hot. Combine at least 4 cups of shredded leftover turkey with some leftover broth and heat in the microwave until hot. Add the cranberry mixture to turkey until well coated.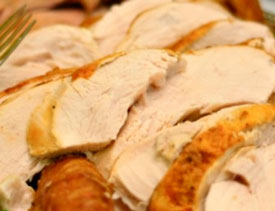 Throw your pulled cran-turkey onto some hamburger buns with mayo and pickles, and you have a gourmet leftover sandwich to enjoy!
Brie Apple Turkey Sandwiches: Have some leftover apples from your pie? Leftover dijon mustard and brie from your cheese plate? Perfect! Spread the mustard on toasted sandwich bread, add thinly sliced apples (granny smith are best for this) and a few slices of brie. Pile on your leftover turkey slices and…voila! A fancy next-day sandwich.
Roasting Pan Aftermath: Burned Turkey Drippings
Don't let the cleaning part of Thanksgiving get the best of you. Use equal parts dish detergent and baking soda to make a grease busting solvent. About a quarter-cup of each should suffice. Fill your pan with the solvent and very hot water. Let it sit overnight and those stubborn grease burns will be lifted effortlessly.
How to Set a Formal Table
Whether you want to make your meal extra special, or you just want to impress your in-laws…a formal touch can really do the trick.
While certainly not mandatory, knowing how to set a formal table can actually come in handy. Here's a Good Housekeeping guide:
Bread Plate: Butter knife handle face right for easy reach.
Dessert Fork and Spoon: Lots of settings? Tuck in dessert utensils above the plate – fork handle left, spoon handle right.
Glasses: Water is placed above knives for easy access. ine is set from right to left in the order used: white wine for the first course on the outside, then red next to your entree.
Utensils: Forks on the left; knives (blades in) and spoons on the right. Everything is places from the outside in based on course order.
From the Woodpellets.com team, we wish you a warm and safe Thanksgiving!