It's the time of year where the phones are steadily ringing, and we are talking with many new and returning customers. Due to other retailers running out of wood pellets and the time of year, our phone call volumes have significantly increased. The Woodpellets.com team is always happy to get you the answers you are looking for, so we have compiled a list of the most frequently asked questions we are hearing during this seasonal rush.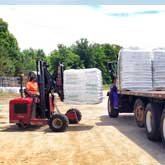 1. Do you have wood pellets to sell me?
If you type in your zip code on our website, or tell us on the phone, you will receive a list of available inventory in your area. You might see "Backordered" or "Sold Out" at times. However, if we tell you on the phone or you see online that pellets are available – that means we have them. We would never knowingly sell wood pellets or wood bricks that aren't available.

2. How is it that you have wood pellets, when other retailers do not?
Because many companies are sold out or running low already, many folks are worried about our supply. Woodpellets.com has long-standing, solid relationships and contracts with our wood pellet mills. This means that we have a secure, consistent supply of wood pellets. You do not have to worry about placing an order, and then being denied your pellets later.
3. Okay…you have pellets. So why can't I get them delivered right away?
We set estimated delivery times based on our ability to reasonably meet your expectations. The time between when you order and receive your pellets depends on various factors. For the most part, we deliver pellets in the order people make their purchases. So, don't panic – the reason you're not getting your delivery immediately is not because the pellets aren't available.
4. I am a customer of ___ years. Why can't I be put at the top of the delivery list?
We appreciate all of our customers, which is why we just had a month-long Customer Appreciation Sale in September! Although we will do everything in our power to make you happy…it simply wouldn't be fair to move earlier orders out of the way based entirely on past business. We understand this may be a frustrating answer, but we can only hope you understand.
5. Are there order minimums? Maximums?
Yes. Order minimums depend entirely on your delivery region. This can be found online, and we will let you know over the phone as well. For right now, we have set a 6 ton maximum for all regions. We had to make this change in order to fairly and evenly spread out inventory capacity. We wouldn't want someone to be able to buy up large quantities, potentially leaving others out.

6. Can you put the pellets in my garage?
Yes! While we cannot hand-stack bags for you, in most areas we are able to offer Precision Delivery. This type of delivery involves the use of a pallet jack, which can move over a smooth, solid surface to place your pallets where you'd like them. (Our driver just needs an open, clear path.) ​The pallet jack is an extra piece of equipment which we pay a contractor fee to use. It uses precious space on our truck, and takes additional time to maneuver. Naturally, these factors all make Precision Delivery our most expensive option. However, many customers find the time saved is worth the money! ​Check out this one minute video​ to see how Precision Delivery works!
7. You haven't charged my card yet. Does this mean my order didn't go through?
Don't worry! If you received an email confirmation, your order went through. (If you didn't receive one, it was probably some small error that is easily fixed by a quick call to us.) When you enter your payment information on our secure website, or by phone, your card is authenticated for one cent. That's just so we can make sure your card is valid and the information is correct. You won't actually be charged until your delivery has been scheduled. So if you have changes to make between when you place your order and when your delivery is scheduled, it's a simple process.
Of course, no two orders are the same, which means there can be slight variations depending on the circumstance. Therefore, each of our honest, general answers should be read with a "by in large, on average" disclaimer. The Woodpellets.com Team consists of real people on the line, waiting to provide you with expert, friendly service. We are trained and ready to answer any questions you have.
Give us a call at 1-800-735-5387 or order online. We are ready and happy to serve you.​