It's about that time of year to turn off the fans and turn on your wood stoves, pellet stoves, and kitchen stoves! In honor of Fall's arrival, we have compiled our top five office favorites for new seasonal recipes. Apple crisp and pumpkin pie are always great options, but wouldn't you like to try some of these twists on the classics?
1. Bacon Latticed Apple Pie
Ingredients:
Pillsbury Pie Crust (if you don't want to make yours from scratch)
5 medium-sized apples, peeled, cored and thinly sliced
Juice of ½ a lemon
¾ cup of brown sugar
¼ cup of granulated sugar
2 tablespoons of cornstarch
1 tablespoon of ground cinnamon
½ teaspoon of ground nutmeg
8 strips of smoked bacon
Combine all of the ingredients together in a mixing bowl.
Preheat oven to 425 degrees.
After the pie crust has chilled for 30 minutes, place the filling into the prepared pie plate. Place bacon strips horizontally onto the pie. Start placing bacon strips one-by-one vertically, lifting every other strip to create a lattice pattern. Crimp the edges of the pie, tucking in the ends of the bacon slices as you crimp the edges. Slightly beat the remaining egg and brush gently onto exposed edges of the piecrust. Place the pie in the fridge for 20 minutes to allow the pastry to set.
Place the pie on a baking sheet and place in the preheated oven for 20 minutes. Rotate, lower the oven temperature to 375 for another 30 minutes or until the crust is golden brown. Cover the edges with foil if they get too brown. Let cool for 1-2 hours. Original recipe here.
2. Honey Pumpkin Cornbread Muffins 
Ingredients:
1 1/4 cups yellow cornmeal
1 cup whole wheat pastry flour
2 teaspoons baking powder
1 teaspoon cinnamon
pinch of nutmeg
1/2 teaspoon salt
3/4 cup canned pumpkin
1 egg, slightly beaten
1 cup unsweetened almond milk
1/3 cup honey
2 tablespoons melted butter or coconut oil
Preheat oven to 400 degrees.  Grease 12 cup muffin tin with nonstick cooking spray or line with paper liners. In a large bowl, stir flour, cornmeal, baking powder, salt, cinnamon and nutmeg together. In a separate large bowl, stir together pumpkin, egg, almond milk, honey and melted butter. Add dry ingredients to wet ingredients and stir until just combined. Divide batter evenly into muffin tins. Bake for 15-18 minutes. Original recipe here.
3. Crock Pot Baked Apples
Ingredients:
1/4 cup brown sugar
1/4 cup walnuts, chopped
2 tablespoons trans-fat free margarine or butter
1 teaspoon cinnamon
6 Gala or Macintosh apples, cored
1/2 cup apple juice or apple cider
In a large bowl, mix brown sugar, walnuts, margarine or butter, and cinnamon. Use a grapefruit spoon that has the sharp edges (or a melon baller or small pairing knife) and core most of the way through, leaving about ½ an inch of apple left at the bottom. Fill the apples with the filling and place them in the crock-pot. Pour the apple juice or cider into the crock-pot, around the apples. Set the crock-pot on high heat and cook 2½ to 3 hours until the apples are soft and begin to collapse. You can refrigerate these for up to 3 days!  Original recipe here.
4. Pumpkin Brownies (only 2 ingredients!)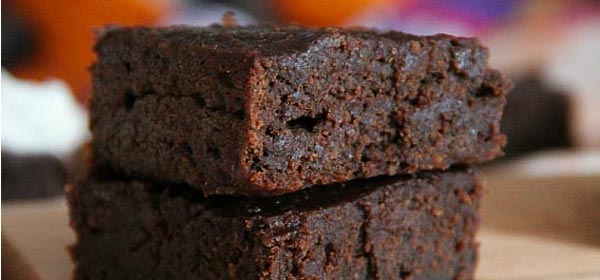 Ingredients:
1 "Family Size" box (19.5 oz) brownie mix
1 (15 oz) can pumpkin
Preheat oven to 350°. Line a 9×9 pan with foil and spray lightly with cooking spray. In a bowl mix together brownie mix and pumpkin until smooth. Spread batter into pan and bake for 25-30 minutes until set. Let cool completely. Original recipe here.
5. Pizza Cake
Yes, you read that correctly. It's a pizza cake. We realized this has almost nothing to do with Fall baking, but we felt that this was definitely worth sharing. Especially for those who don't like sweets! Check out the step-by-step tutorial straight from Pillsbury here!
While we have you – If you still need to order your wood pellets and/or wood bricks…do so as soon as possible! Give us a call at 1-800-PELLETS, or order online at www.woodpellets.com.