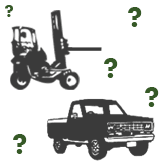 There isn't much of an argument against how convenient home delivery is. However, delivery typically comes at a price, so it's nice when there is a "pickup" option available. Target is a great example of a store offering both delivery and pickup. For many large items, such as patio furniture or kitchen appliances, you can skip the delivery fee and have the store hold your items at a location near you. Then you simply head to the store when you're alerted, show your ID and load your item(s) into your vehicle. It might take a couple of trips and some heavy lifting, but you have saved the delivery fee. But have you considered the real cost of picking it up yourself? Did you really save?
Depending on where you live and where you buy your pellets, wood pellet and wood brick self-pickup and delivery may be available as an option for you. If you buy in person, you will likely be picking up your order, if you order online or by phone, you may be given the choice of pickup or delivery.  If you are ordering from Woodpellets.com, the web site or one of our Customer Service representatives will let you know your delivery or pickup options depending on where you live. Our customers will often ask if the delivery fee is worth it.  Our Customer Service Representatives have a lot of experience walking through the pros and cons of each, so we thought it would be helpful to create a cost comparison chart.
To help you choose between pickup and delivery, we have calculated the estimated cost of a few typical scenarios. The variables used are the following:
Miles Roundtrip: This is the total distance traveled from your house to the pickup location and back.
Mileage Cost: This .56/mile cost was issued by the IRS for 2014 standard mileage rates. Of course, mileage cost will vary depending on the type and age of the vehicle, but we used this government issued rate as an accepted average.
Cost per Hour: How much is your time worth? How might you be spending those hours if you weren't busy picking up your fuel? Would you be earning money working? Spending time with your family? Getting house and yard work done? You might argue that your time is priceless. However, most people put some value on their time, so we used $10 per hour as the value of otherwise free time. If you're wondering what the cost is with that variable removed, we calculated a situation with your Cost Per Hour at $0 (far right).
Hours Spent: This is based on how far away you live from the pickup location, and loading/unloading time.
Ton(s) Loaded Per Trip: Most vehicles equipped for this task can carry between a half ton and one ton. We settled in the middle at .75 tons loaded per trip.
Tons Used Annually On Average: Three to four tons is the most typical order size for Woodpellets.com customers. For this chart, we assumed the person in this calculation purchased three tons.
Our four scenarios on the chart range from nearly $90, all the way up to $234. Woodpellets.com has three tiers of delivery options to choose from (Pricing tiers vary by region). Flexible Delivery fees are as low as $59 per order, and Precision Delivery is just an extra $35. The Precision option, our highest level of delivery service, includes the use of a pallet jack, which can move your pallet(s) all the way into your garage, saving you more time and effort. Once you place your order, you receive an email confirmation. When it's time to receive your order, our delivery team contacts you to coordinate. Recently, we started offering text message delivery updates for those who choose to opt in!
Sometimes the idea of skipping a delivery fee sounds like the best option. However, once you weigh all the other costs, you might come to a different conclusion. Of course, it's up to you to make the decision between delivery and pickup. If you want to crunch your own numbers, here is the formula: 
As always, if you have any questions…give us a call at 1-800-PELLETS! We are happy to assist you.