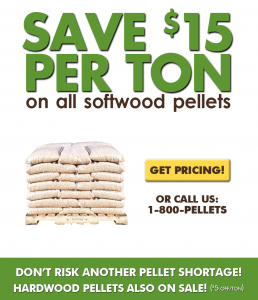 Now that Spring is finally here, it's time for the Woodpellets.com Annual Spring Stock-up Sale! We encourage all of our customers, and potential customers, to stock up now. Buying pellets now will not only save you money, but it will keep you prepared for what the next heating season may bring.
The Stock-Up Sale will save you $15 per ton on softwood pellets, and $5 per ton on hardwood pellets.
Type in your zip code at www.woodpellets.com to get pricing and delivery options in your area. Or, you can always give us a call at 1-800-PELLETS (800-735-5387). We would love to hear from you!
If you're concerned about storing your pellets this summer, don't worry!  Check out our wood pellets summer storage tips.
Pellets must be ordered by 4/30, and delivery by May 15th must be agreed to. Some delivery dates may vary depending on the region.