Our Flex Savings Plan allows you to make a monthly deposit in any amount you choose, enabling you to budget your wood pellet fuel purchase over many months – instead of a single large one-time payment.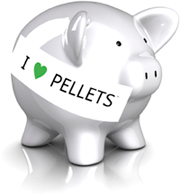 Sign up before March 21st – we'll give you FREE  Flex Delivery on your next order. 
Sign up must be completed by March 21st 2014.
Free delivery is only good on orders of 3 tons or more.
To qualify for free delivery you must have a minimum duration of at least 3 months.
Free delivery is for "Flex Delivery" – Standard and Precision delivery will have a surcharge.
Free delivery offer may not be combined with other offers or promotions.
The wood pellet budget plan is available to everyone, so feel free to let your neighbors, friends, relatives, and colleagues know that this option is available to them. If they are new WoodPellets.com customers, make sure to have them mention your name when ordering and they will get $25 off their order and we'll give you $25 off your next order with us (click here for more details on our Pellet Buck Program). The best part is that there's no limit on the amount of credit you can earn!