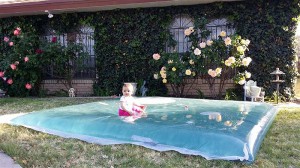 Summer is here, the weather is warm and your kids need some entertaining. Have you heard of water blobs? They are an easy and inexpensive way to keep children busy and cool outside.
Water blobs are literally big blobs of water. Typically, they are made of two plastic painter's tarps duct taped or fused together, then filled with hose water and sealed up. (Tutorial here) The blobs are great for laying and jumping on, and even exploring for the smaller kids if you put some colorful foam toys inside.
You may have read our blog about what to do with empty wood pellet bags. For summer, we thought of a way to use your
pellet bags for this popular water blob trend!
See below for a step by step tutorial on how to make a water blob out of those empty wood pellet bags you might have laying around from the heating season.
What you'll need:
At least 8 empty pellet bags. You'll need more for a larger blob of course.
Iron and ironing board
Parchment paper
Duct tape