What are wood bricks?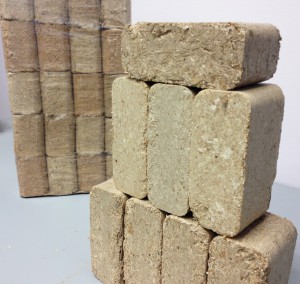 Wood bricks are a fantastic alternative to burning cord wood.  Made of kiln-dried, super-condensed recycled wood chips and sawdust, they can be burned by themselves or added to cord wood to produce cleaner-burning, longer-lasting heat than cord wood alone. Because they are manufactured for optimal burning, they produce more heat than logs and consistently come with low moisture and high quality.
Why should I switch from cord wood?
Convenience: Cords of wood are usually delivered to you in a pile dumped on your lawn or driveway. Then the moving, stacking (and sometimes splitting) follows. Even more time and effort is added if you have to season your logs before use. Also, one pound of biomass bricks is equal to 1.7 pounds of cordwood in terms of how much heat you get. This gives you 70% more room for the same amount of heating fuel!
Wood Bricks are delivered in a neat clean packaging on a pallet. Depending on the brand of biomass brick, the ton is typically comprised of 50 packages of 20 bricks. They can remain on the pallet, or the ton can be split up for quick stacking in tight spaces.
Cleanliness: Not only are biomass bricks environmentally clean, but also clean for your home: bricks are bark-free and bug-free. Wood chips and sawdust are the only components in the kiln-fired bricks, which means there is no chance for insects to make homes in them. Firewood can bring a variety of insects such as wasps, ants and beetles into your home. This is why campsites do not allow cord wood to be brought in for campfires.
Handy Camping Tip: Packages of biomass wood bricks can be brought camping, and happen to be excellent for campfires. Bricks light quickly, burn clean and burn hot. The hot ash bed alone (which is perfect for cooking food and s'mores over) from burning bricks puts out more heat than a log on fire!