Although we rolled out our improved online shopping cart a couple of years ago, we're still getting surprised reactions from customers about it. Did you know that you can select multiple products to add to your purchase when ordering from Woodpellets.com, both by phone and online? If you're speaking to one of our experts by phone, just ask him or her about adding another type of fuel to your order.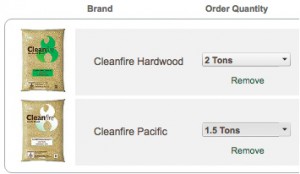 If you're shopping online, simply select your desired brand and the number of tons you'd like from your zip code's gallery. Once it's added to your cart, select the Continue Shopping button that will appear on a pop-up box. This will bring you back to the gallery, where you can select another type of fuel. Continue this until you're ready to view your cart, make any changes, select your delivery type and check out.
Why is this mix and match by the ton option important? Well, you might want to set up a
strategic burning strategy for the next heating season. If you have been burning hardwood pellets, you might be curious about upgrading to softwood. Or, you might want to try something new. Perhaps you already burn softwood pellets, but you're thinking about burning a softwood with a higher heat output during those extra cold months. Comparing your burning and heating experience with different types of wood pellets will help take care of those pellet curiosities.