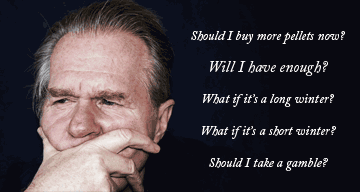 It's late into the winter – yet the Northeast is still being relentlessly hit with heavy snow and freezing temperatures. You might be starting to wonder if your pellet supply will last you through the rest of the heating season.
You're not alone in this quandary.
This is a tricky time of year – where a wood pellet user must decide to gamble with a low supply and risk potential supply shortages, or choose to just play it safe and top off his or her supply now.
Of course no one knows for sure what will happen with the weather for the remainder of the winter. There is historical data, professional forecasters, and even a groundhog that can give a prediction – but there is no real way to know with absolute certainty. Earlier this year, we wrote about the Farmer's Almanac weather prediction, which hasn't been fully accurate. The Northeast prediction was a much colder than normal winter, which has been true, and "below normal snowfall", which has not been true. Unfortunately, last winter much colder than many had anticipated…leading to a late winter shortage in many areas. With the harsh winter we have already experienced, there is certainly a possibility for more regional shortages again this year.
So, are you at risk of running out of pellets? Well, there are many factors that will determine your risk. Your pellet stove model, the prominence of secondary heating sources, the type of wood pellets burned, and the area of your home you heat with pellets are just some of the many variables that affect your fuel consumption.