How It Works: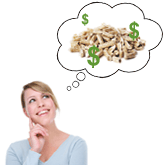 You call us to help you create your personalized Flex Savings Plan. We designed this budget plan with our customers in mind – which is why you get to choose everything. You pick your start date, your monthly deposit amount, and the method of payment.
Each month, on the date you chose, your deposit is automatically processed and stored as a credit on your Woodpellets.com account. You will be sent an email receipt, and you can always call us or simply login to track your Plan.
Whenever you're ready to order, your account credit is available to apply to your order balance. As long as your monthly deposit is at least $25, you can adjust the amount at any time.
Call 1-800-735-5387 to Get Started Today!